Dir/scr: Jacek Brocuch. Poland-Spain. 2013. 95mins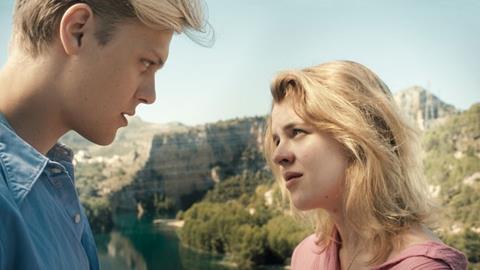 The passions of young love and what happens with something dramatic and awful threatens to tear that love apart is at the core of Jacek Brocuch's beautifully shot and engagingly performed Lasting (Nieultone), and stylishly made drama driven by impressive performances despite any sense of real originality in the storyline.
The performances from Jakub Gierszal and Magdalena Berus are engaging.
The rural idyll and lustrous sunshine of Spain makes for the perfect opening backdrop for the burgeoning romance between ridiculously blond Micael (Jakub Gierszal) and equally fair Karina (Magdalena Berus), who right in the opening scenes seal their tentative love affair by leaping off a high bridge into a river and frolicking in the water.
They are both working on a farm run by his family – he is doing manual labouring work while she works in the field – while he is also restoring a motorcycle (for his trip back to Poland to start studies), and doing a little scuba-diving in in lakes in his spare time. But things take a darker spin when he is confronted by an angry man who claims Micael is diving on his property and in a fit of anger he kills him and pushes the man's body into the water.
Micael returns to Poland on his motorcycle and while tormented by what happened, waits for Karina to return before telling her what happened (in a nicely shot scene of them talking in a restaurant, shot from some distance). She is mortified and wants to get away from him, but at the same time is keeping a secret of her own….the sort of secret that comes as no dramatic surprise to watcher of teen love dramas.
Much of the film is taken with Micael and Karina spending time apart, both pining for the other but unable to reach a point where they can be together again. The love is there but his actions cast a shadow over any possibility of them finding happiness together.
Though modest in running time, Lasting does tend to drag on, mostly because the actual story is relatively slight. That one moment of brutal violence is the moment that sends the film off in its real direction, but oddly it loses a certain impact because it is so arbitrary (the man he kills has never been seen before) and the film has to work hard to keep the emotional impact still resonating with the young pair.
The performances from Jakub Gierszal and Magdalena Berus are engaging enough, but the drama of their lives doesn't seem quite enough to sustain the film, despite elegant filmmaking from Jacek Borcuch who captures the essence of young love when they are trouble-free in Spain, and makes the opening half hour the most enjoyable and immersive part of the film. His film All That I Love screened in Sundance in 2010, and while it is easy to see Lasting playing on the festival circuit, sales may well be limited.
Production companies: Manana, Espiral Producciones, Polish Film Institute
International sales: Manana, international@manana.pl
Producers: Piotr Kobus, Agnieszka Drewno
Cinematography: Michal Englert
Editor: Beata Walentowska
Music: Daniel Bloom
Website: www.lasting.pl
Main cast: Jakub Gierszal, Magdalena Berus, Ángela Molina, Andrezej Chyra, Junajo Ballestra