Dir: Pia Marais. Germany-South Africa-France-Netherlands. 2013. 108mins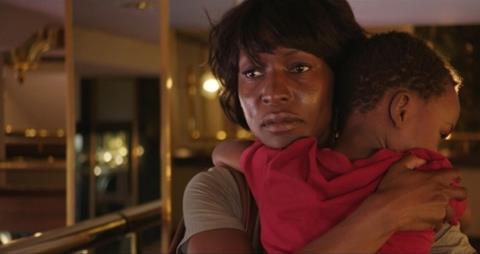 Questions of truth and lies, chance and choice play out against a South African background to ultimately awkward effect in Layla Fourie, the third feature by German-based writer-director Pia Marais. Following her two impressive, low-key features The Unvarnished and At Ellen's Age, Marais raises her game for a cinematically and intellectually ambitious drama best described as an existential thriller – in that its philosophical themes take precedence over conventional narrative concerns and psychological engagement.
Marais's rich and provocative premise is given special urgency by the fact that a black South African single mother makes a particularly vulnerable heroine.
But alienating performance style and Marais's seeming unease with English-language dialogue makes Layla Fourie a frustrating, if intriguing experience. It won't harm Marais's rising festival reputation but neither will it bring the commercial breakthrough that more achieved execution might have provided.
Marais and regular co-writer Horst Markgraf lay their thematic cards on the table at the start, as heroine Layla (Rayna Campbell) undertakes a polygraph test as part of her application to become a professional polygraph tester. In an on-the-nose discussion of the theme of truth and falsehood, Layla immediately comes across as a transparent theoretical mouthpiece for her creators: "Lies lead to lies," she argues. "It's like a spiral, it just goes on."
Sure enough, Layla soon finds herself illustrating that premise. A black South African single mother raising her small son Kane (Rapule Hendricks) in Johannesburg, Layla works nights as a club waitress but wants a better life, and is now in line for a job in which she herself administers polygraph tests.
Her first assignment is in a casino resort, and Kane joins her on the journey there. A long tense night drive – evoked in a tautly ominous sequence – ends with Layla accidentally running a white man down.
Attempts to take him to hospital and to talk to police don't work out, and when the man dies, Layla – terrified about what will happen to her son if she's arrested – dumps the body and covers her tracks. The next day she starts her job and with pointed irony, this woman, who's living the biggest lie of her life, is interviewing others about their truthfulness.
The theme begins to work itself out through a series of outrageous but transparent coincidences, making it clear that Layla Fourie is less about realistic plausibility than about a Dostoevskian investigation of the mechanisms of fate and conscience. Layla's first interviewee is an Afrikaner man, Eugene Pienaar (German actor August Diehl), who immediately starts subverting the process. Pienaar then starts to turn up everywhere Layla goes, seemingly on the track of the dead man. Layla can't shake his attentions, and then Pienaar introduces her to Constanza (Norton), who turns out to be the deceased's wife.
The film becomes a four-way cat-and-mouse game between its four main characters, with young Kane playing the most decisive role. That's because his movements and emotional turns are utterly unpredictable, and because this innocent child, now complicit with his mother's lie and secretly in possession of the film's crucial piece of evidence, has become the arbiter on matters of honesty and deception, determining whether or not Layla is free to confess to her crime.
Marais's rich and provocative premise is given special urgency by the fact that a black South African single mother makes a particularly vulnerable heroine. Layla's lie is all the more comprehensible given the stakes of her predicament: the film's opening section establishes her and Kane's isolation in a violent society. But the transparently philosophical tenor of the narrative diminishes its dramatic and emotional impact, not least because of some awkward performances.
Diehl copes well with a South African accent, but his character never becomes more than an ominously brooding man-on-a-mission. And British actress Campbell, despite an intense presence that holds the camera, never quite makes Layla gel: partly because of the stilted dialogue she's saddled with, partly because of her oddly affectless delivery. That's part and parcel of Layla's character – as a liar and professional expert in the theory of lying, she has to be unreadable, but Campbell's opacity becomes increasingly frustrating. The truly winning performance, however, is young Rapule Hendricks, whose candor and energy provide the film's strongest human connection.
Visually, the film scores high, with cinematographer André Chemetoff imparting an impressionistic dynamism that sometimes recalls the feel of Claire Denis's films, and making the most of the South African locations that range from imposing landscapes to harsh, forbidding urban vistas.
Production companies: Pandora Film Produktion, Dv8 Films/Spier films, Topkapi Films, Cinema Defacto, WDR, Arte
International sales: The Match Factory, www.the-match-factory.com
Producers Claudia Steffen, Christoph Friedel
Co-Producers: Jeremy Nathan, Michael Auret, Frans Van Gestel, Tom Dercourt, Arnold Heslenfeld, Laurette Schillings
Screenplay: Horst Markgraf, Pia Marais
Cinematography: André Chemetoff
Editor: Chris Teerink, Mona Bräuer
Production designer: Petra Barchi
Music: Bachar Khalifé
Main cast: Rayna Campbell, August Diehl, Rapule Hendricks, Terry Norton