Dir/scr: Aki Kaurismäki. Finland-France-Germany. 2011. 93mins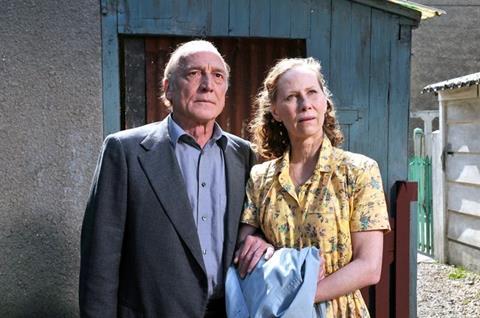 Since the early 1980s, Finnish auteur Aki Kaurismäki has been mining his own peculiar seam and achieving a quiet miracle - making films that gladden the heart the most when they're at their most unflappably lugubrious. Le Havre essentially offers us the director's usual menu - poker-faced acting, weather-beaten faces, political compassion, hyper-stylized staging and decrepit barroom interiors lit con amore. But there's something fresh in this new film, which sees the Finn fully venting his Francophilia for the first time since 1991's La Vie de Bohème.
The film hits a delicate balance between real-world exteriors and stylized, studio-bound scenes.
Taking on both the Gallic cinema tradition and a current French political issue, Kaurismäki works with a superb Franco-Finnish cast to bring us a typically modest but shining French-language gem that sees him magnificently back on form after the slight dip of 2006's Lights In The Dusk. Francophone audiences will especially be tickled, but Akiphiles worldwide will be in heaven.
The opening shots set up the tone - a succession of laconic sound and sight gags, establishing a world in which sinister figures wear trenchcoats and fedoras. We're somewhere between real modern France and the stylized noir world of Kaurismäki's beloved Jean-Pierre Melville.
Protagonist Marcel Marx (veteran Wilms) is a philosophical ex-artist in the Northern French port, trying to eke a living as a shoeshine man in a world where everyone wears trainers. He lives in impoverished happiness with wife Arletty (Outinen) in a working-class neighbourhood seemingly left over from a Marcel Carné film, with a faithful neighbour in the shape of big-hearted boulangère Yvette (Didi).
While Arletty is away in hospital - unknown to Marcel, her condition is incurable - the shoeshiner befriends Idrissa (Miguel), a young African immigrant on the run from police; the film is set against the background, glimpsed in TV coverage, of the French authorities' controversial and drastic closure of the refugee camp known as 'Le Jungle'.
Marcel offers Idrissa shelter with himself and his faithful mutt (played by Laika, the fifth generation in a dynasty of Kaurismäki regulars), and tries to find a way to reunite Idrissa with his mother, who's living in London.
The very simple plot involves Marcel trying to raise money for Idrissa's escape - which he does by arranging a charity gig by antique French rocker Roberto Piazza aka Little Bob. Meanwhile, a malevolent neighbour (legendary veteran Jean-Pierre Léaud) has snitched to the authorities, but luckily Inspector Monet (Darroussin), the cop in charge of bringing in Idrissa, conceals a warm heart under his hard-bitten, taciturn exterior.
Together, Wilms and Darroussin bring the freshest new notes to Kaurismäki's world. Wilms, at one point making an overt nod to his role in La Vie de Bohème, adds an impish courteousness to the film's otherwise uninflected acting style, while Darroussin's hangdog phiz and world-weary sang-froid are a sublime fit for the Kaurismäki universe.
The moment when Darroussin walks into a bar holding a pineapple is one of those priceless moments of Tati-esque comedy that defy explanation.
Highlighting the political themes that have been foremost in Kaurismäki's hard-times fiction at least since 1996's Drifting Clouds, the director adds a new quasi-documentary element to his cinema, filming one sequence at what appears to be a genuine refugee detainment centre.
The film hits a delicate balance between real-world exteriors and stylized, studio-bound scenes, notably the spit-and-sawdust bar frequented by a memorable variety of grizzled seamen (presumably real dockside faces). The director's regular cinematographer Timo Salminen shoots with meticulous style, bringing an almost comic-strip economy both to exteriors and to the sets in Kaurismaki's favourite muted blue and red.
The handling of anachronism is brilliant as ever, and it's typical of the director's sour attitude to modernity that the one outright baddie (Léaud's informer) is the only character who owns a cellphone.
Regular faces Outinen and Salo bring a laconic tenderness to their roles, and newcomer Blondin Miguel has a solemn appeal. French comedy legend Pierre Etaix contributes a sympathetic cameo, and as ever, Laika is the best-lit mutt in European cinema. Music is a typical Kaurismäki mix, including tangos, blues, melodrama-redolent selections from compatriot composer Einojuhani Rautavaara - although viewers may balk at the director indulging his taste for mediocre French rock, in the shape of a live and lukewarm performance by Little Bob.

Production companies: Sputnik, Pyramide Productions, Pandora Film
International sales: The Match Factory, www.matchfactory.de
Producer: Aki Kaurismäki
Cinematography: Timo Salminen
Production designer: Wouter Zoon
Editor: Timo Linnasalo
Main cast: André Wilms, Kati Outinen, Jean-Pierre Darroussin, Blondin Miguel, Elina Salo