Dir: Sheldon Larry. US-Canada. 2011. 106mins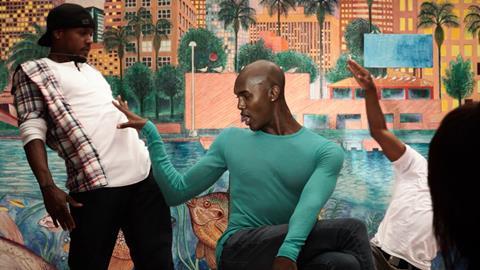 Gay, glam and Glee-full, Sheldon Larry's lively musical Leave It On The Floor is inspired by the 1991 feature Paris is Burning, which documented the drag-centred Harlem ball culture (most famously appropriated by a Vogue-ing Madonna).
Leave It On The Floor would charm any audience into submission.
Twenty years later, that ball scene is still vital in 15 cities around the US, and Sheldon Larry has come up with a rousing musical devoted to the El Monte, California, event. Leave It On The Floor, a traditionally-phrased song- and-dance show about a very non-traditional family unit, is bound to become an enduring staple of any LGBT programming, although wider exposure of a musical with titles like Knock The Motherfuckers Dead is sadly a challenge, despite Kimberly Burse's rousing musical score.
In ball culture, drag queen members of "houses", named in the style of couture labels (i.e. House of Garcon, House of Prestige), walk the runway in their own elaborate costumes for a judging panel, while butcher gays compete for "realness" trophies ("Wall Street Executive Realness"). These gay and transgendered, mostly African-American kids are often homeless runaways, and outside the competitions, their houses function as their real homes. Leave It On The Floor is lovingly respectful to the community at its heart.
The lives lived here may be alternative, but the plotting - by Larry's collaborator and lyricist Glenn Gaylord - is anything but. Gay boy outcast Brad (the talented Ephraim Sykes), living out of the back of the car he stole from his self-centered mother, meets ball boy Carter (Andre Myers) at a convenience store - in an Artful Dodger twist, they steal each other's wallets - leading to Brad's introduction to the ball world. "Face" artist Princess Eminence (the charismatic Phillip Evelyn) is also attracted to Brad, and tries to introduce him to the House of Eminence, where Carter also lives and "mother" Queen Latina (the marvelous Miss Barbie-Q) devours all the film's best lines.
Brad must learn how to respect himself, be true to Carter, cope with a surprising tragedy - and master enough moves to win the "sexy walk" category before Leave It On The Floor surges to a grand finale at the Imperial Mini Ball, choreographed - as is the entire film - by Beyoncé and J-Lo collaborator Frank Gatson Jr.
Burse's songs are addictive, from the marvelous Timberlake ode Justin's Gonna Call to the passionate This Is My Lament and the edgy Black Love, with Gaylord's lyrics mostly rising to the challenge, although "it's just my luck/to meet a man who'd rather sing than fuck" works better than "his name is Shawn/and now he's gone").
While Leave It On The Floor would charm any audience into submission, its technical credits do betray severe budgetary limitations - Larry used a crew of mostly USC students, and his staging is extremely conventional. Shot in HDCAM, Leave It On The Floor is no beauty pageant winner itself, and, if anything, cries for more time "on the floor" where the drag artists parade their colourful finery and the film's tempo rises to a crescendo.
Production company: The Film Collaborative
International sales: Arrow Entertainment, steve-arroyave@arrow-entertainment.com
Producers: Glenn Gaylord, Gabriel Blanco
Executive producers: Marc L Ballin, Sheldon Larry
Screenplay: Glenn Gaylord, from a story by Sheldon Larry and Glenn Gaylord
Cinematography: Tom Camarda
Editor: Charles Bornstein
Music: Kimberly Burse
Choreography: Frank Gatson Jr
Production designer: Giao-Chou Ly
Main cast: Ephraim Sykes, Phillip Evelyn, Andre Myers, Miss Barbie-Q, James Alsop, Hailie Weaver, Dj Fatha Julz. Cameron Koa, Metra Dee, Lady Red Couture, Roxy Wood