Dir/scr.Tim Blake Nelson. US. 2009. 105 minutes.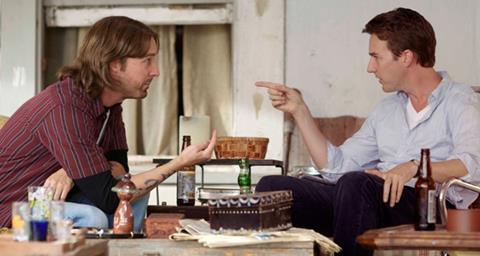 Double acts have been a particular specialty of Edward Norton since making his feature debut as a two-faced killer in Primal Fear, and he gets an opportunity to flaunt his forte again from writer-director-actor Tim Blake Nelson. Playing identical twin brothers who have landed on very different ends of the personality spectrum, Norton gives two bravura comic performances, shoulder-to-shoulder, that are likely to be acknowledged in at least one acting category come awards season.
Nelson has finessed a multi-faceted and often pricelessly funny black comedy here, showcasing Norton's chameleon-like gifts as he darts between a groomed classics professor and the pot-growing brother who lures him into hazardous waters.
A double dose of violence in the final round changes the film's temperature precipitously, however: while it's a provocative choice, it could be a deal-breaker for Norton fans expecting a night of all-out fun.
From a lecture on Socrates that opens the film, Nelson sets up Norton's classics whiz Bill Kincaid as a decent man about to take a tumble from his carefully ordered existence.
Having successfully washed his country bumpkin roots out of his hair and speech, Bill is perhaps a little too invested in a personal philosophy of self-control for his own good. While his studied erudition gets him an enviable academic offer, it also stirs up the hormones of students who don't share his ethos of playing by the rules.
Bill has barely recovered from the sexual advances of one such admirer when he is summoned back to his rural Oklahoma town with the news that his brother Brady has been murdered. The anticipated funeral turns out to be a ruse, with a dual agenda: to reunite Bill with his estranged mother (Sarandon) and exploit his fraternal resemblance to nefarious ends.
A veteran stage actor with a theatrical sense of structure, Nelson builds his scenario in three acts. The first is a hilarious accumulation of give-and-takes between the starchy Bill and the rough-and-tumble Brady; the second a heartfelt romance between Bill and a rural English teacher (Russell).
The unnerving (some might say questionable) thrusts of violence in the final act owe a debt to Nelson's affiliation with the Coen brothers, and confirm our growing suspicion that the Kincaid siblings are really cut from the same cloth.
Nelson's no-frills production throws maximum spotlight on his actors. Josh Pais sends off hilarious sparks as a high-strung Jewish orthodontist, while Maggie Siff lends poignant sobriety to a small but key role as the town rabbi. Aiding and abetting with his usual elan is the film's buoyant auteur, tapping into his white-trash repertoire as Brady's scruffy sidekick.
To sign up for Screen's weekly Reviews Newsletter with all the week's new releases, internationalopenings and full festival reviews delivered free to your mailbox every Friday, please click HERE
Production companies
Millennium Films
Langley Films
Class 5 Films
Producers
Tim Blake Nelson
Edward Norton
Bill Migliore
John Langley
Elie Cohn
Kristina Dubin
International sales
Nu Image
+ 310 388 6900
Cinematographer
Roberto Schaefer
Editor
Michelle Botticelli
Production design
Max Biscoe
Music
Jeff Danna
Principal cast
Edward Norton
Susan Sarandon
Keri Russell
Richard Dreyfuss
Tim Blake Nelson
Maggie Siff