This powerful documentary about Argentina's abortion debate has global relevance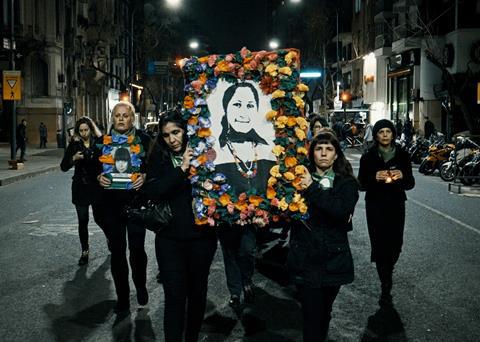 Dir/scr. Juan Solanas. Argentina/France/Uruguay. 2019. 85 mins.
Juan Solanas' documentary about Argentina's abortion debate isn't just an impassioned portrait of a polarising movement, nor an overt piece of cinematic advocacy, but a powerful act of bearing witness. As women fight for the right to control their own bodies and lives, Let It Be Law lays bare personal stories in straightforward talking-head shots that have a lingering impact. Tearful parents ruing the loss of young daughters to clandestine abortions and angry women recounting their own horrific experiences will have that effect.
Agitating for change requires staring an issue directly in the face and making it personal, as Solanas clearly understands.
Also influential is the documentary's timeliness, premiering as a special screening in Cannes as the issue incites feverish reactions in the United States, and will be all but guaranteed considerable festival play as a result. Of course, the film's candid missives would have been just as meaningful regardless of the current news cycle, yet there a balance of determination and tenderness to this piece that's particularly potent. And, while the focus remains exclusively on Argentina, Let It Be Law is universally relevant.
Obvious about its allegiance from its opening moments, Solanas' first film since the vastly dissimilar 2012 drama Upside Down hones in on Argentina's most recent conflict over abortion — the Latin American nation's seventh consecutive push for legalisation, and one that made it through the Chamber of Deputies, resulting in a final decision by the Senate. On-screen text details the specifics, as interspersed with the movie's moving interviews, crowd footage from protests on Buenos Aires streets and clips from the heated conversations taking place within the legislature.
The informative data, repeated from various sources in various ways throughout the feature, explains Let It Be Law's fervent tone: one woman dies every week in Argentina as a result of an illegal abortion, with children, teenagers and the poor disproportionately affected. (Similarly bleak statistics also pop-up across the film's 85-minute running time.) The scenes throughout the city, observed with a probing distance reminiscent of Sergei Loznitsa's documentaries, serve to demonstrate just how many of the country's women feel so strongly about the matter.
Writing, directing, producing, editing and acting as his own cinematographer, camera operator and sound recordist, Solanas charts the time between votes — one positive, one negative — and covers ample ground, filming interviewees in the thick of the capital and in sparse rural areas alike. Chapter titles break the discussion into segments, but certain themes keep recurring. Case studies make plain the illegality of abortions under present Argentine law, as well as the severely punitive effect in practice, while several figures of faith grapple with the contradictions inherent in Catholic-backed pro-life rhetoric.
Let It Be Law doesn't only give time to its favoured side, although the anti-abortion camp is afforded little sympathy. Even on the street, where giant papier-mâché fetuses linger above protestors, the atmosphere is muted.
Visually, the film benefits from an array of striking images, including topical, bonnet and red cape-adorned, Handmaid's Tale-inspired demonstrations; tiny shacks where women have fought for their lives after brutal home solutions; and the sheer size of the public marches. But intimacy rather than scale is Let It Be Law's strongest feature. Agitating for change requires staring an issue directly in the face and making it personal, as Solanas clearly understands.
Production companies: Cine Sur, Les Films Du Sud, Gameland
International sales: Wild Bunch, festival@wildbunch.eu
Producers: Juan Solanas, Victoria Solanas
Cinematography: Juan Solanas
Editing: Juan Solanas