Dir/scr: Matt Reeves. US-UK. 2010. 115mins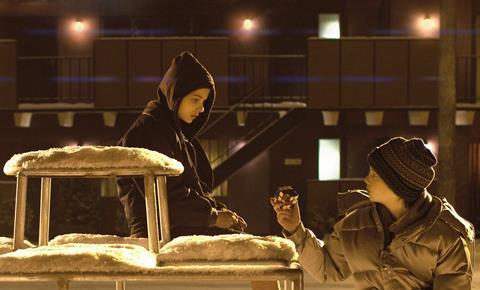 Let Me In is a brilliantly effective horror film that is a thoroughly gripping and doesn't shirk from its supernatural chills. Adapted from John Ajvide Lindqvist's Swedish best-selling vampire/coming-of-age novel Let The Right One In (which was made into a stunning 2008 Swedish) this English-language version retains the tender brutality of the original source material and should find a discerning audience both amongst fright-fans and arthouse aficionados.
Let Me In is a superb horror film…a supernatural thriller to be celebrated by fans of the genre.
It is respectfully adapted and directed by Matt Reeves (who made Cloverfield), who also draws out pitch-perfect performances from his two young stars, Chloe Moretz and Kodi Smit McPhee. He also fashions a bleak sense of dread and unhappiness that permeates all aspects of the story, which also helps to heighten the young love that develops between boy and girl.
This version transplants the story from Stockholm to wintery Los Alamos in the mid 1980s, the home to 12 year-old Owen (Kodi Smit McPhee) who is suffering bullying at school and who practices standing up to the things in the courtyard of his apartment block. Into his lonely world arrives the strange and beguiling Abby (Chloe Moretz), who moves into the apartment next door and who favours walking the snowy courtyard late at night wearing no shoes.
Soon a series of brutal murders start to terrify locals. They are being undertaken by Abby's elderly carer (Richard Jenkins), to kills and then drains the victims of their blood. Abby – of course – is in truth a hungry vampire…but also a young girl who craves the affection and loyalty of her new friend Owen
The burgeoning affection between the two youngsters is handled beautifully by Reeves. Abby may be savage and powerful, but she also recognises the vulnerable loneliness of Owen and finds herself increasingly drawn to him. On her trail, though, is a suspicious policeman (Elias Koteas), and his arrival at her door forces the two children into action.
But while the affection between these two unusual children is the core of the film, there is a real savagery to the supernatural aspects – whether it be Abby attacking and killing locals or her carer disfiguring himself wit acid so the police wouldn't be able to track him down, through to Owen's brutal revenge of the school bully.
Fans of the original film will recognise certain of the memorable sequences, but at the same time Reeve very much makes the film his own. Chloe Moretz – so good in the equally violent Kick-Ass – is superb as the glacial but also shy and tender Abby, a girl trapped in a vampire's body who seeks affection as well as blood, while Kodi Smit-McPhee (from The Road) has the perfect gawky uncomfortable nature to convince as a troubled boy who becomes enraptured by the rather unusual girl next door.
Some of the CGI is a little unconvincing, and Abby's glowing vampire eyes lack horror imagination, but these are niggles. Let Me In is a superb horror film…a supernatural thriller to be celebrated by fans of the genre.
Production company: Hammer Films, EFTI
International sales: Exclusive Media Group, www.exclusivemedia.com
US Distribution: Overture Films
Producers: Simon Oakes, Alex Brunner, Guy East, Tobin Armbrust, Donna Gigliotti, John Nordling, Carl Molinder
Executive producers: Nigel Sinclair, John Ptak, Philip Elway, Fredrik Malmberg
Cinematography: Greig Fraser
Production designer: Ford Wheeler
Editor: Stan Salfas
Music: Michael Giacchino
Main cast: Chloe Moretz, Kodi Smit-McPhee, Richard Jenkins, Elias Koteas