Dir: Gary Winick. US. 2010. 105mins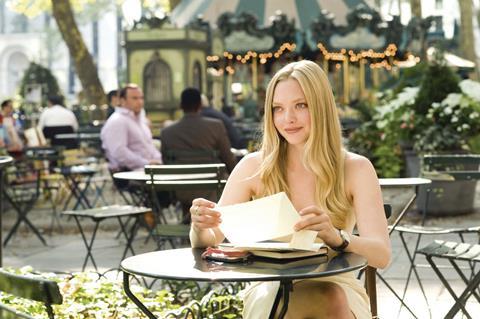 A corny guilty pleasure which plays like Mamma Mia! without the songs, Letters To Juliet could be a tidy earner for Summit and its international distribution partners in the upcoming World Cup season.
It will score most mileage as female counter-programming to the TV football and masculine summer blockbusters like The A-Team or Robin Hood.
A romantic fantasy principally aimed at teenage girls, the film could also capture the hearts of those adult women with a high tolerance for cliché. And as Mamma Mia! proved, there are millions of those forgiving females around the globe.
Set in dreamy Tuscan landscapes and doused in a gushing music score and every romantic pop hit from the last year's charts, this is not the subtlest of mainstream filmmaking and a fair share of clunky dialogue doesn't help. But it possesses some charm, notably in the two lead female stars – Amanda Seyfried and Vanessa Redgrave – and there is a certain cringeworthy enjoyment in enduring the inevitable road to love at its centre.
The film had its world premiere at the Tribeca Film Festival over the weekend and opens in the US on May 14 and the UK a week later. It will score most mileage as female counter-programming to the TV football and masculine summer blockbusters like The A-Team or Robin Hood.
Seyfried, who has been increasingly visible in films like Dear John, Chloe, Jennifer's Body and, of course Mamma Mia!, proves that she can carry a film on her petite shoulders with a blend of likeable awkwardness and confident beauty. She also holds her own against Redgrave who is on strong form here, relishing the kind of romantic role that rarely comes the way of septuagenarians these days.
Seyfried plays Sophie Hall, a fact checker at The New Yorker who longs to be a staff writer but has yet to win the confidence of her editor (Platt). She and her chef fiancé Victor (Bernal) are heading to Verona in Italy for a romantic getaway before their wedding – they can't take a honeymoon since Victor's restaurant is scheduled to open immediately after the wedding.
However, once in Verona, Sophie realises that Victor is more interested in visiting vineyards, wine auctions and suppliers than spending romantic time with her. One afternoon, while walking on her own through Verona, she finds herself in the famous courtyard where Juliet stood on her balcony and listened to Romeo's supplications.
She befriends the secretaries of Juliet, a group of women who answer the letters of lost love and hope left for Juliet on the wall of the courtyard and, while collecting the letters one day, discovers one which was left 50 years ago by a teenage English girl to the young Italian farmworker she stood up.
Sophie answers the letter and of course it reaches the English woman, Claire Smith (Redgrave) who immediately comes to Italy with her crotchety grandson Charlie (Egan) in search of her long lost love.
Sophie, Claire and Charlie start searching for the man throughout Tuscany in the hope of proving that it's never too late to recapture lost love. Naturally, in the process, sparks fly between Sophie and Charlie.
Australian Egan stumbles through the man-candy role of posh British boy Charlie and Bernal is over-the-top as the passionate chef, but they fulfil their purpose adequately enough as male foils to the two women. More interesting is Redgrave's real life husband Franco Nero as the Italian she discovers decades later; their celluloid reunion is the film's highpoint.
Production companies: Applehead Pictures, Mark Canton Productions
North American distribution: Summit Entertainment
International sales: Summit International, www.summit-ent.com
Executive producer: Ron Schmidt
Producers: Mark Canton, Caroline Kaplan, Ellen Barkin
Screenplay: Jose Rivera & Tim Sullivan
Director of photography: Marco Pontecorvo
Production designer: Stuart Wurtzel
Editor: Bill Pankow
Music: Andrea Guerra
Main cast: Amanda Seyfried, Vanessa Redgrave, Christopher Egan, Gael Garcia Bernal, Franco Nero, Oliver Platt, Luisa Ranieri