Dir: Kat Coiro. US-Canada. 2012. 100mins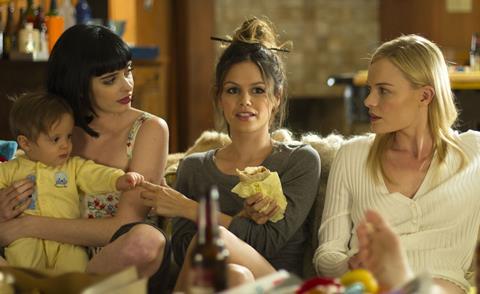 The enormous critical and commercial success of the $288-million-grossing Bridesmaids will likely serve as a line of demarcation of sorts in Hollywood, but the witty, engaging female-oriented comedic ensemble L!fe Happens should come with an asterix, for no mere knock-off is it. Penned before Bridesmaids but only now seeing release, the movie, born of collaboration between director Kat Coiro and star Krysten Ritter, winningly marries a female buddy comedy with single mother drama, a pinch of bawdiness, sharp characterisations and some slyly observed situational humour.
The thing that is most noteworthy and heartening about L!fe Happens is that its characterisations are both crisp and emotionally consistent.
The film's limited theatrical release — opening in but a dozen markets, and against much bigger, genre-oriented affairs — will constrict its exhibition earnings to arthouse-level seven-figures, but ancillary value should only grow with time, given both the movie's recognizable supporting cast and co-writer Ritter's growing profile as the star of the new American sitcom Don't Trust the B—— in Apartment 23, which premiered just this week to solid numbers and a strong buzz.
Kim (Ritter) is just another young, happy-go-lucky Los Angeleno when one of her one-night stands results in an unexpected pregnancy. One year later, she's stuck with an infant, a mismatched partner more interested in pursuing his professional surfing career than being a father, and little clue as to how to go about connecting with any man. Assisting Kim are her two housemates, career-driven writer Deena (Kate Bosworth) and Laura (Rachel Bilson), a blithe virgin who seems perpetually caught up in a cycle of risqué odd jobs.
At first attempting, on Deena's advice, to just find a quick sexual fling to help knock her out of her funk, Kim instead begins to wonder if she might be up for a relationship with the kind and handsome stranger who's caught her eye, Nicolas (Geoff Stults). Unfortunately, she's told a small lie — that the baby in their house is in fact Deena's. Nicolas' quirky pal Henri (Justin Kirk), meanwhile, is only more aroused by Deena's snubs of his amorous advances.
There's a Dorothy Parker-esque snap to some the dialogue, delivered with aplomb by in particular Ritter and Bosworth, who exhibit a great rapport. But the thing that is most noteworthy and heartening about L!fe Happens is that its characterisations are both crisp and emotionally consistent, not constructed for sitcom whimsy or scene-to-scene contrivance. The conflicts and resolutions in various relationships are informed by characters' maturations or, as often as not, their chafing at change.
Co-writers Coiro and Ritter also deserve credit for addressing the manner in which new friendships often impede or complicate existing ones, particularly in communal living situations. (A club-happy new friend, played by Fallon Goodson, represents some of the things that Ritter's Kim can no longer realistically be to Deena.)
The array of delightful performances is the movie's other major selling point. In films like She's Out of My League and Confessions Of A Shopaholic, as well as her new series, Ritter has shown skill with quick-witted rejoinders. Here, though, she marvelously embodies a more fully developed but no less endearing and amusing character. With her crack timing and bombshell eyes, Ritter's future in especially this genre seems bright.
Showcasing a side that she hasn't had the opportunity to exercise recently, Bosworth also evidences herself in perfect lockstep with Coiro's feisty tone, in which silliness and angst are commingled, and never far apart. Bilson and Kristen Johnston, meanwhile, manage to transcend what could be cardboard roles — the ditz and the harridan, respectively — and generate some genuine laughs of their own.
Production companies: Stardust Pictures, Dot Dot Dot Productions, Mongrel Media
Domestic distribution: PMK*BNC Films
Producer: Justin L. Levine
Co-producers: Kat Coiro, David J. Phillips, Krysten Ritter, Corbin Timbrook
Associate producers: Carissa Blades, Bobbie Blyle
Screenplay: Kat Coiro & Krysten Ritter
Cinematography: Doug Chamberlain
Editors: Adam Catino, Eli Nilsen
Production designer: Kathrin Eder
Music: Mateo Messina
Website: www.LifeHappensFilm.com
Main cast: Krysten Ritter, Kate Bosworth, Geoff Stults, Rachel Bilson, Justin Kirk, Jason Biggs, Kristen Johnston, Seymour Cassel, Rhys Coiro, Andrea Savage, Fallon Goodson, Lauren Conrad