Dir: Shinsuke Sato. Japan. 2013. 128mins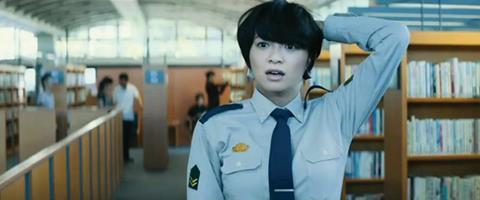 The fight for freedom of information and expression reaches action-packed heights in Shinsuke Sato's adaptation of Hiro Arikawa's best-selling novel The Library War – which has sold more than 2.8 million copies since its publication in 2006 – which delivers engagingly over-the-top militarised mayhem, all in the good name of saving books.
Casting of cult star Chiaki Kuriyama (from Kill Bill) as Kasahara's best friend could help international profile.
Given his previous success with the successful Gantz fantasy film series, it comes as no surprise that Shinksuke Sato shows a sure hand at marshalling the complex action sequences – with the film also giving due credit to The Ministry of Defence and the Japan Ground & Air Defence Systems for helping provide on-screen military-style muscle – as well managing the tough job of layering humour and a dash of romance into the rather fantastical storyline.
Library Wars had its world premiere in Filmart and is set to open in Japan in mid-April.
The film is set in 2019, and a Japan where public anger at media excesses has been fanned by a group called the Media Betterment Committee which has forced through government acts to supress and censor television, newspapers, the Internet, films and even books. The nation's libraries have formed their own paramilitary Library Defence squads, who are based at – and defend – libraries.
After a Library Defence force member helped save her – and rescue the book she was after – from a raid on a bookstore five years earlier, Iku Kasahara (Nana Eikura) becomes the first woman to join the elite gun-carrying section of Library Defence.
The lanky, ungainly - but very determined - Kasahara is initially at odds with the by-the-books leadership style of her (shorter) squad leader Atsushi Dojo (Junichi Okada), but as the battles with the more violent Media Betterment groups increase, she learns to appreciate his commitment as a quality.
The book has been adapted before – the Japanese animated series Library War in 2008 and the 2012 animated television film Library War: Wings Of Revolution – but this big screen version is a sci-fi film that makes the most of the most incongruous of action concepts. Casting of cult star Chiaki Kuriyama (from Kill Bill) as Kasahara's best friend could help international profile, plus the action sequences are expertly staged, especially as the film hits its stride in the thrilling last third.
Production companies: Kadokawa Shoten Publishing, Sedic International, Toho Company
International sales: TBS, www.tbs.co.jp
Screenplay: Akiko Nogi, based on the novel by Hiro Arikawa
Cinematography: Taro Kawazu
Music: Yu Takami
Website: www.toshokan-sensou-movie.com
Main cast: Junichi Okada, Nana Eikura, Kei Tanaka, Sota Fukushi, Naomi Nishida, Jun Hashimoto, Chiaki Kuriyama, Koji Ishizaka