Dir: Oliver Schmitz. South Africa-Germany. 2010. 105mins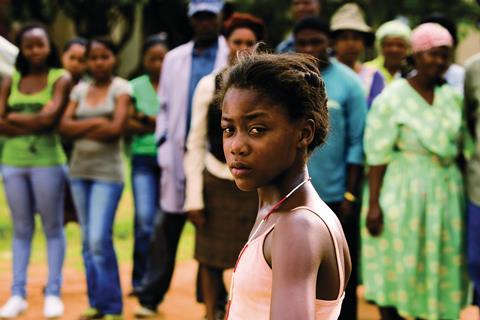 A commanding performance from screen newcomer Khomotso Manyaka lights up Life, Above All, a moving adaptation of Allan Stratton's bestselling 2004 novel Chanda's Secrets. A classic coming of age story is given added dramatic heft by placing it in a South Africa where so many children are obliged to assume adult responsibilities as the AIDS pandemic leaves hundreds of thousands of orphans in its wake.
Polished production values and handsome location photography combine to make Life, Above All an attractive proposition.
Ultimately uplifting in tone, Life, Above All has the potential to connect with a mainstream audience attracted to sensitive literary adaptations and intrigued by the South African setting. The 2008 screen version of J. M Coetzee's Disgrace might provide a template of commercial potential.
In Chanda's Secrets the lead character is aged sixteen. In the film Chanda (Manyaka) is twelve and more of an innocent. She lives in the small township of Elandsdoorn near Johannesburg. It appears to be a supportive, tight-knit community where people look out for each other. Following the death of her newly born baby sister, Chanda is to discover that Elandsdoorn is really a place where maintaining the appearance of happy normality is more important than acknowledging the truth of a disease that is rife in the country.
There is gossip and speculation but nobody openly admits that Chanda's stepfather Jonah (Aubrey Poolo) is a drunken wastrel or that her mother Lillian (Lerato Mvelase) is gravely ill. Chanda has to figure everything out for herself.
Spotted by talent scouts during a choir performance at her school, Khomotso Manyaka proves to be a screen natural as Chanda. Her eyes blaze with intelligence and compassion, investing the character with a fearless curiosity. Her hunger for the truth makes Chanda a dangerous force in a community comforted by lies and evasions.
She is the one who must challenge authority and take the cares of the world upon her shoulders. Manyaka's completely natural performance makes Chanda an earth mother in the making and she receives excellent support from Keaobaka Makanyane as Esther, a loyal friend with a more pragmatic view of the world. The acting is notable throughout with Lerato Mvelase lending a gentle dignity to the longsuffering Lillian and Harriet Manamela adding some fire to the character of Mrs Tafa, a friendly neighbour torn between supporting Chanda's family or remaining a silent figure of reproach within the local community.
Polished production values and handsome location photography combine to make Life, Above All an attractive proposition. It largely avoids the temptation to sentimentalise or turn preachy letting the obvious lessons from this tale of pride and prejudice speak for themselves.
Producer: Oliver Stoltz
Production companies: Dreamer Joint Venture
Co-producers: Greig Buckle, Thomas Reisser, Dan Schlanger
International sales: Bavaria Film International, (49) 89 6499 2686
Screenplay: Dennis Foon, based on the novel Chandha's Secrets by Allan Stratton
Cinematography: Bernhard Jasper
Editor: Dirk Grau
Music: Ali N Askin
Main cast: Khomotso Manyaka, Lerato Mvelase, Harriet Manamela, Keaobaka Makanyane