Dir: Alain Resnais. France. 2013. 108mins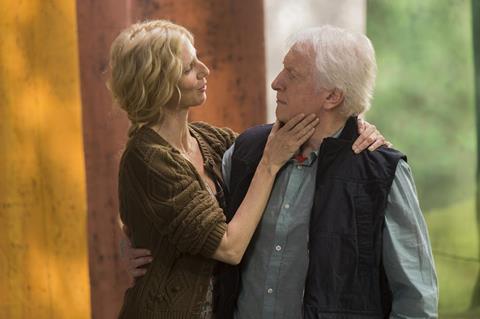 If the whole point of a film is to put a big smile on your face and have you walk out of the cinema feeling a bit better about yourself, having learned just that little bit more about your fellow men and women, then Alain Resnais' latest film Life Of Riley (Aimer, Boire et Chanter) does a splendid job of it. Granted, it will target first and foremost cinephiles and adult audiences, who are most likely to recognise themselves in the film's six characters or maybe also in the seventh one, Riley, who is at the heart of it but never puts in an appearance.
An editor at heart, after all these years, he never allows the action to linger needlessly, and with the same precision he has always developed his characters, he never allows any of them to take a wrong step.
At the very respectable age of 92, Resnais seems to have the uncanny knack of reinventing himself with every new film, while working with the same basic material, working with many his regular cast and crew and never really departing from themes that have been close to his heart in recent years. Whether it is juxtaposing life and art to the point you can't tell them apart any more or the changing perspective of life as age settles in with the inevitable shadow of death is lurking somewhere in the background.
Once again, this is an adaptation of a play, and for the third time, by British playwright Alan Ayckbourn. It is set in the Yorkshire countryside, where three middle-aged couples are told that a dear friend of theirs, George Riley, might have only a few more months to live. There are Colin (Hyppolite Girardot), a not particularly astute country doctor, and his wife Kathryn (Sabine Azema) who had been Riley's lover in her youth; the philandering Jack (Michel Vuillermoz),, a businessman who considers himself Riley's oldest friend and his spouse, Tamara (Caroline Silhol) who may be having an affair with Riley, and finally Riley's ex-wife, Monica (Sandrine Kiberlain), who had left him for a simple rustic farmer, Simeon (Andre Dussolier).
The action moves constantly between the gardens of four separate country houses. From a distance, the houses are just sketches, designed by comic strip star Blutch, but up close these gardens look like stage sets with plastic curtains, allowing theatrical entrances for all six characters.
No wonder, since Colin, Kathryn, Tamara and the never-perceived George, are rehearsing for an amateur stage production and it is never quite clear whether their dialogue is part of the play rehearsed or for real. Or, most likely, are both at the same time. George had been drawn into the play to keep his mind off his health, but whether dying or not, he is certainly capable of working his charms on all three women involved, to the point that by the third act, all three are keen to accept his invitation and accompany him on a holiday to Tenerife, whatever their partners in life might think of it.
Resnais, a master of form if there ever was one, combines elements which normally shouldn't be put together, and shows how they can work, despite all precedents. His camera observes them all with great sympathy, whatever their foibles, though never missing the slightly ridiculous, stagy edge of each part, more in evidence in the case of the hyper-active, assertive, Kathryn or in Jack's theatrical despondency when he learns of his friend's disease.
An editor at heart, after all these years, he never allows the action to linger needlessly, and with the same precision he has always developed his characters, he never allows any of them to take a wrong step. The cast is all in top form, with Caroline Silhol offering a beautiful study of the worldly French wife who knows how to handle her husband's vagaries but never shrinks from the option of vagaries of her own.
For all those who might shrug at the sight of the film and say it's nothing more than filmed theatre, Resnais' suggestion is to look at all those things one can never do on stage, which might explain the existence and the achievements of this film. Incidentally, the French title is taken from the Gallic name of a famous Johan Strauss waltz, which accompanies every one of the film's visits to George Riley's garden.
Production company: F comme Film
Producer: Jean-Louis Livy
International sales: Le Pacte, www.le-pacte.com
Screenplay: Laurent Herbier, Alex Reval, Jean-Marie Besset adapted from Alan Ayckbroun's play Life Of Riley
Cinematography: Dominique Bouilleret
Editor: Herve de Luze
Production designer: Jacques Saulnier
Music: Mark Snow
Main cast: Sabine Azema, Hyppolite Girardot, Caroline Silhol, Michel Vuillermoz, Sandrine Kiberlain, Andre Dussolier