Dir/scr: Asli Ozge. Turkey-Germany. 2013. 102mins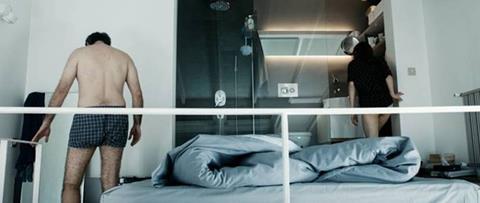 An artist and her architect husband in Istanbul face a chill in their marriage in Asli Ozge's drama in muted blue-grey wintry monochrome, yet the grim story is framed in elegant interior design.
Lifelong holds its emotional tautness despite a slow pace with painfully long camera stops on its weary characters.
Lifelong (Hayatboyu), a dark reminder of the ups and downs of life spent together, is a variant on the stolid deliberate dark-palette storytelling of Nuri Bilge Ceylan (who is thanked in the end credits). The drama should have a long ride on the festival circuit, where Turkish films draw audiences globally. Art houses releases should be strong in Germany (a source of part of the budget) and in France, but elsewhere this film about a souring bond will struggle.
Gaunt bird-like Ela and bearded Can are fiftyish, respected in their fields, and secular (there's no mention of Islam in the film.) When Can leaves the house late in evenings, Ela suspects him of having an affair and starts tracking his phone calls. As the days plod along, both husband and wife feel the weight of their stress on their health. Love isn't ripening.
Realism is Ozge's style, in low gear, with the camera watching patiently for signs of adultery in the apartment and the car, and signs of emotion anywhere. Ozge is also taking cues from muffled French sex dramas where the coup de foudre is replaced by glacial distancing of one spouse from another.
As Ela, Defne Halman acts on her suspicions with stoic reserve, and a bit of telephone surveillance. Shots of the successful artist viewing her aging near-nude self in the mirror – the most fearsome picture frame - are a dreaded reality check that many in the fifty-ish audience have felt. As Can, a greying balding presence who's still attractive to waitresses, Hakan Cimenser plays a man whose own worries prevent him from feeling his wife's pain.
The couple's home, designed by Can (a real house by the Turkish architect Hayriye Ozel), is a multi-level stage, horizontally transparent and vertically opaque. The location plays into the tension of a couple with secrets, as sonorous footsteps on the metal stairs issue gentle sounds of alarm. Thanks to cinematographer Emre Erkmen's inventive design imagination, middle-aged disintegration has rarely looked so well-composed. A shot of the spiral stairwell, seen from top to bottom, looks like an unblinking omnipresent metal eye that witnesses everything.
As the story unfolds, Erkman's camera turns to long close-ups of the couple, illustrious professionals in a comfortable class, whose faces can't conceal their anxieties. There are a few false notes but Lifelong holds its emotional tautness despite a slow pace with painfully long camera stops on its weary characters.
Production companies: Bulut Film, Sodamedya Interative, Razor Film, Augustus Film, Kaliber Film, The Post Republic
International sales: Films Boutique, www.filmsboutique.com
Producer: Nadir Operli
Co-Producers: Roman Paul, Gerhard Meixner, Bero Beyer, Mete Gumurhan, Michael Reuter, Rebekka Garrido, Enis Köstepen, Töre Karahan
Cinematography: Emre Erkmen
Editors: Natali Barrey, Asli Ozge
Main cast: Defne Halman, Hakan Cimenser, Gizem Akman, Unur Dikmen