Dir: Drake Doremus. US. 2011. 89mins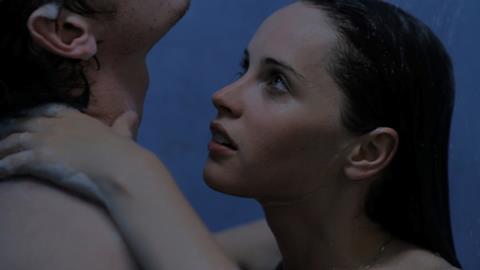 Like the young love affair it chronicles, Like Crazy moves in fits and starts, hitting a few grace notes along the way, but ending up unfulfilling. This more serious turn from writer-director Drake Doremus (whose second feature Douchebag premiered at Sundance last year) is an earnest look at the untenability of long distance relationships, but also a shallow one. While the attractive cast of hot up-and-comers may guarantee a certain amount of playability on DVD and VOD platforms, theatrical prospects are limited.
Livening up the proceedings are those scenes with Anne's parents, played by British thespians Alex Kingston and Oliver Muirhead.
We first meet Anne (Felicity Jones), a beautiful young British brunette, delivering a treatise on MySpace in a Los Angeles college writing class, but her attention is drawn to a young curly-haired boy in the back of the room named Jacob (Anton Yelchin). After she places a love letter on his windshield, the two quickly develop a romance. Doremus depicts their courtship in a montage of clichés: Going to the Santa Monica pier, playing in the sand, and cuddling on the beach with the sunset peaking behind them.
While the two paramours sweet-talk and sleep together, they quietly dread the day when Anne will have to return to the UK. To avoid the pending separation, Anne makes the fateful decision to violate her student visa and stay with Jacob over the summer. But the consequences ripple throughout their relationship: When she tries to return to L.A. on a tourist visa after a brief return home, US officials deny her entrance and quickly send her packing across the pond.
What follows are the struggles Anne and Jacob must endure as they to try to keep their passion alive, despite the bureaucratic hurdles of US immigration policy, the months they must spend apart and the temptations of other lovers.
Like Crazy is most crippled by the thinly drawn lead characters. While Jones' Anna and Yelchin's Jacob are pretty, the characterisations seem more fitting for a TV commercial than a feature-length drama. Neither are given anything more to fill out their characters than their post-collegiate careers (he's a furniture designer; she's a magazine journalist). When Jennifer Lawrence (Winter's Bone) briefly shows up as a rival lover, she gives credible tears in a break-up scene, but the character is given so little context or history that the moment is a wasted opportunity.
Livening up the proceedings are those scenes with Anne's parents, played by British thespians Alex Kingston and Oliver Muirhead, whose deadpan reaction shots and character's love of whiskey are a highlight of the film. While only on screen briefly, the two actors give a specificity, weight and sense of humor that the rest of the movie lacks.
At one point in the film, Anne's British magazine editor asks her to write for the magazine to give the publication a fresh young voice. "I don't feel very young," says Anne. "Well, you are," responds the editor. The conversation is instructive, for Like Crazy may not want to be perceived as naïve, but it is. In all fairness, the film's final shot reveals a more mature understanding of its story. But by then, it's too little, too late.
Production company: Crispy Films
International sales: United Talent Agency
Producers: Jonathan Schwartz, Andrea Sperling
Executive producers: Zygi Wilf, Audrey Wilf
Screenplay: Drake Doremus, Ben York Jones
Cinematography: John Guleserian
Production designer: Katie Byron
Editor: Katie Byron
Music: Dustin O'Halloran
Main cast:Anton Yelchin, Felicity Jones, Jennifer Lawrence, Charlie Bewley, Alex Kingston, Oliver Muirhead