Dir/scr: Hong Khaou. UK. 2013. 86mins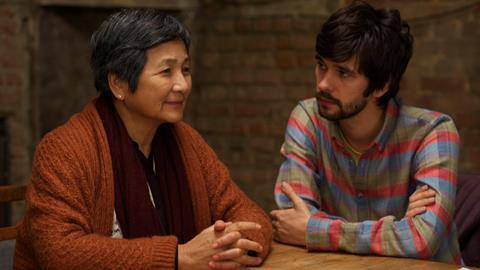 A deft and delicate drama, writer/director Hong Khaou's debut film is the gently moving story of how a mis-matched pair try and overcome the loss of someone both love deeply as they try and bridge a cultural and language barrier. Lilting is gently memorable and given heart and soul by the engaging lead performances by up-and-coming talent Ben Wishaw and Chinese acting legend Pei-Pei Cheng.
It is a gently low-key film about the big issues about how we react after loss and how we learn to come together.
A low-budget British film, Lilting relies on low-key charm, some nice performances and a simple but nuanced story, and while lacking a sense of dramatic drive and some niggling script issues it is a strong debut film and should attract art house distributor interest, especially in territories where Wishaw (who starred in Cloud Atlas and Skyfall) and Cheng (who starred in Crouching Tiger, Hidden Dragon and became a star in the 1960s with such films as Come Drink With Me) are well known. It will also fit easily in further film festivals.
Set partly in flashback, the core of the story surrounds accidental death in a traffic accident of young Londoner Kai (Andrew Leung). He regularly visits his headstrong Chinese-Cambodian mother Junn (Pei-Pei Cheng) in residential home where she lives. She tolerates the place, but Kai is keen to ask her to come and live with him. The only hurdle is finally admitting to her that he is gay, and lives with his boyfriend Richard (Wishaw).
Each is grief stricken, and feeling a strong sense of responsibility toward Kai's only family member, Richard reaches out to Junn and tries to bond with her. Though Junn speaks little English, her dislike of Richard is evident and since they share no common language, Richard hires a translator Vann (Naomi Christie) to enable conversation.
She is also called upon translate for Alan (Peter Bowles), a romantically inclined fellow resident at the assisted care home who takes a shine to Junn and aims to woo her with flowers every day and an old-fashioned charm that made him once popular with the ladies.
Little by little Richard and Junn try to find a way to reach across their cultural and language divides and discover s way to understand and appreciate each other through their memories of Kai.
Lilting, elegantly shot in widescreen and with its intimate story of tormented souls trying to find a way to move on charmingly interspersed with nicely composed shots of the chilly English countryside, is gently driven by Ben Wishaw's moving performance. His restrained emotion is nicely balanced by Pei-Pei Cheng's stoical determination and belligerence.
Her tentative romance with Alan (played with delightful faded charm by Peter Bowles, an established British television star from series such as To The Manor Born and Rumpole Of The Bailey) makes for a nice interlude during the film, though fades just when it gets interesting. Equally interesting the interplay between Richard and Vann – he is unconvincingly rude and abrupt to her – though the script never quite gets their personality balance quite right.
But writer/director Hong Khaou's film is an impressively insightful and moving tale driven by astute and smart central performances. It is a gently low-key film about the big issues about how we react after loss and how we learn to come together.
Production companies: Microwave, SUMS* Film and Media, Stink Films
International sales: Protagonist Pictures, www.protagonistpictures.com
Producer: Dominic Buchanan
Executive producers: Bob Benton, Daniel Bergmann, Andy Brunskill, Robert Herman
Cinematography: Ula Pontikos
Editor: Mark Towns
Production designer: Miren Marañón
Music: Stuart Earl
Main cast: Ben Whishaw, Pei-Pei Cheng, Andrew Leung, Peter Bowles, Naomi Christie, Morven Christie