Avatar may have cast a blue glow over the global box office, but in Iceland an independent local hit has held it at bay. Jack Warner reports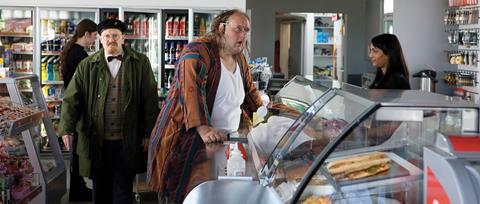 Released on December 26, one weekend after Avatar's worldwide launch, Samfilm's Mr Bjarnfredarson immediately knocked the sci-fi epic from the top of the Icelandic box office for the December 26-27 weekend. With a gross of $105,000 (ISK13m) - excluding previews - from 17 screens, the film recorded the highest debut in history for a local film, even more impressive considering it was a two-day weekend due to the Christmas holiday. With 11,000 admissions, Mr Bjarnfredarson outperformed Avatar by more than $12,000 (ISK1.5m) and more than 1,600 admissions.
Back to a full weekend on January 1-3, Mr Bjarnfredarson again kept Avatar at bay, with revenues increasing 10% to $116,000 (ISK4.4m) and 11,800 admissions from fewer screens (13) than the previous week.
Writer-director Ragnar Bragason's black comedy is the big-screen finale to the adventures of the oddball characters featured in the preceding three editions of the hugely popular Icelandic television series: The Night Shift,The Day Shift and The Prison Shift.
Comedian-turned-actor Jon Gnarr reprises the role of George Bjarnfredarson, a man who has to address his past after he leaves prison.
"I expected Mr Bjarnfredarson to do well at the box office, but I never imagined it sailing two weeks in a row ahead of an international monster like Avatar," says Bragason, who also directed the television series.
Produced by Sagafilm, the title was distributed by Samfilm, which also handles product for WDSMPI, Warner Bros, UIP and various independents.
After three weekends, the film has more than 51,000 admissions in a nation of fewer than 320,000 inhabitants, meaning around 16%, or one in six, of the
population has seen it.
"I expected Mr Bjarnfredarson to do well at the box office, but I never imagined it sailing ahead of Avatar."

Ragnar Bragason, director of Mr Bjarnfredarson
Mr Bjarnfredarson was always intended for a Christmas release, the TV series having had its finale in November, before it was known the film would have
to contend with Avatar. "We were hoping [Avatar director James] Cameron would fail," admits Sagafilm chief executive, Kjartan Thordarson. "He
didn't, but we still came top."
Thordarson suggests Mr Bjarnfredarson's appeal is that it is "a modern Icelandic story that takes well-known characters and explains who they are and why they are."
The film's success marks the end of a good year for Iceland's box office, which saw admissions increase by 7%. Despite the December opening, Avatar ended 2009 as the highest-grossing film in the territory on $415,500 (ISK51.5m), ahead of on $415.400 (ISK51.48m) even though the Warner Bros comedy sol around 16,000 more tickets. Making up the rest of the 2009 top five were The Girl With The Dragon Tattoo on $352,000 (ISK43.6m), Harry Potter And The Half-Blood Prince on $330,000 (ISK40.9m) and local comedy Johannes on $328,000 (ISK40.7m). Mr Bjarnfredarson ended the year in ninth place.
While Avatar may have reclaimed the number one slot in Mr Bjarnfredarson's third weekend, the comedy is well on its way to becoming the most successful
local film since official records began, overtaking Jar City which recorded around 85,000 admissions in 2006.
Thordarson estimates Mr Bjarnfredarson will have reached 60,000 by the end of its fourth weekend, and notes that local films enjoy much greater
theatrical longevity in the market compared to their North American counterparts.