Dir: Daryl Wein. US. 2012. 89mins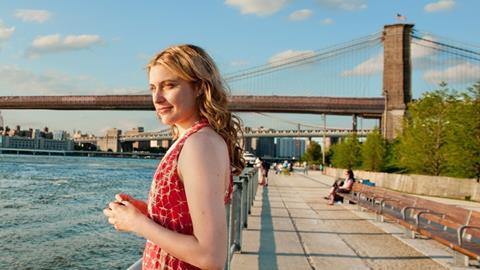 Lola Versus skews a screwball template, the jilted would-be bride, and modernizes it into a cloying coyness about the inanity of urban relationships. The romantic comedy by Daryl Wein, co-written with Zoe Lister-Jones, issues a challenge - can the newfound stardom and fan base of Greta Gerwig overcome a script packed with dud punchlines and a corps of actors trying far too hard to please?
Filmed on New York locations with plenty of cobblestones and sweetly decorated interiors, Lola Versus rubs a relentless cuteness into every frame.
This Sundance-clone spasm of zaniness – perfect for promotional banter on late-night television — could even find an audience theatrically. Die-hard Greta Gerwig fans will keep it going. Foreign appeal for this talky generational caprice will be limited to the Gerwig faithful.
In New York, twenty-something Lola (Gerwig), the well-meaning daughter of quirky New Age parents (Bill Pullman and Deborah Winger) who would be too extremely contrived for The Simpsons, is in love with lanky handsome Luke (Joel Kinnaman), who proposes as the film opens.
In the throes of blissful wedding planning, Lola is soon told by Luke that it's off. Once she's dumped, the sluice gates open for jokes about women searching for men, sexting, penis size, apartment living, betrayal, and yoga. If that sounds funny, most of it isn't.
Daryl Wein (2009's Breaking Upwards) directs his cast as infantilised innocents who marvel at silly things and give speeches in psychobabble about their neuroses and sexual longings. These are not people whom the audience will love.
Lola, a PhD student focusing on silence in the work of Stephane Mallarme, consoles herself after Luke's retreat by sleeping with the couple's whacky friend Henry (Hamish Linklater) and with well-endowed Nick (Ebon Moss-Bachrach) – "it was so big that it hurt my back". Those who find it hard to believe that a woman who talks like a six year-old can be studying for a doctorate in French poetry should remember that zany Cameron Diaz was an orthopedic surgeon in There's Something About Mary.
Gerwig's diminutive side-kick, Alice (Lister-Jones) plays to man-deprived boilerplate with lines that seem recycled from Rose Marie on the Dick Van Dyke Show. Hamish Linklater, as Henry, plays to well-worn Sundance type as a kooky and bemused sensitive man, caught between two friends. In the role of Luke, Joel Kinnaman captures a self-centered male cluelessness that single women will find painfully familiar.
Filmed on New York locations with plenty of cobblestones and sweetly decorated interiors, Lola Versus rubs a relentless cuteness into every frame. Production values are adequate, although close-ups of Gerwig are inconsistent for a film that's built around her.
Unlike Whit Stillman's Damsels In Distress, where Gerwig brought an urbane appealing lightness to a character determined to solving problems of the heart and soul, Lola Versus has her plodding through situations where Lola reacts with variations on a ditzy helplessness. As Gerwig's career emerges and broadens, this gloss on the dumb blonde syndrome won't be seen as anything major.
Production Company: Groundswell Productions
US Distributor: Fox Searchlight
International sales: Filmnation Entertainment, www.wearefilmnation.com
Producers: Michael London, Janice Williams, Jocelyn Hayes-Simpson
Executive producers: Daryl Wein, Zoe Lister-Jones
Screenplay: Daryl Wein, Zoe Lister-Jones
Cinematography: Jacob Ihre
Editor: Suzy Elmiger, Susan Littenberg
Production designer: Teresa Mastropierro
Music: Fall On Your Sword
Main cast: Greta Gerwig, Joel Kinnaman, Zoe Lister-Jones, Hamish Linklater, Bill Pullman, Debra Winger