Dir/scr: Peter Berg. US. 2013. 121mins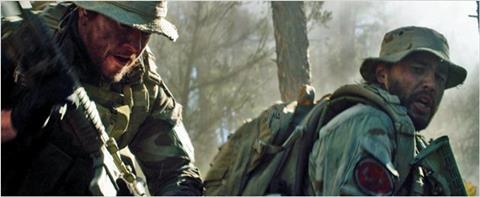 After pitching the US Navy against a big'n'nasty alien invasion in last year's noisy summer blockbuster Battleship, director Peter Berg heads into more serious fare with Lone Survivor, tracing the real-life ill-fated story of a Navy SEAL team on a mission in Afghanistan's Kunar province in 2005.
The film lapses into a few Medal of Honor video game moments as we see Taliban picked off via the SEAL teams' gun sights, but this section is also Berg at his best as the team are beset from all sides by bullets and missiles.
An unrelentingly tough and rather gung-ho story – though just as noisy as Battleship – the film is reminiscent of Ridley Scott's superior Black Hawk Down in terms of its sequence of full-on battle sequences. It is a pretty blunt film that makes no real attempt to delve into the complexities of the situation in Afghanistan, instead it focuses more on the physical prowess of a four-man SEAL team who get caught up in a deadly firefight. The starry cast could well help a steady release, but some bloody and brutal scenes and a general audience antipathy to contemporary war stories may hamper breakout potential.
Also scripted by Berg, based on the book Lone Survivor by Marcus Luttrell with Patrick Robinson, the film premiered at AFI and starts a limited run in the US on December 27 prior to a wide-release on January 10. Any awards hype may well help the release, though technical awards seem more likely than performance ones, despite Mark Wahlberg's impressively physical turn.
The title gives away the story somewhat, and opening scenes make it quite clear who the 'lone survivor' actually is, but Berg smartly bypasses the clichéd tough SEAL training scenes by rushing through these moments in the opening credits with seeming real footage detailing just how tough and brutal the SEAL selection process is.
The film proper begins in Afghanistan in 2005 where a four-man SEAL team is made up of Hospital Corpsman Luttrel (Wahlberg) a 29-year-old Texan; Lt. Michael Murphy (Taylor Kitsch), Gunner's Mate Danny P. Dietz (Emile Hirsch); and Sonar Technician Matthew "Axe" Axelson (Ben Foster). The four are all best friends, and while their characteristics are loosely drawn – Dietz and Murphy are super competitive; Axelson is more self-contained and Luttrel is (to a degree) the conscience of the team – the actors rarely get a chance to be more than efficient fighting men.
There is plenty clichéd bearded fighting-men getting ready for war dialogue, but the film at least finds its footing when the team plan their part in Operation Red Wings, a mission targeting Taliban commander Ahmad Shah (Yousuf Azami) and his fighters in the mountains of Kunar. Murphy, Luttrell, Dietz and Axelson are sent in as a surveillance-and-reconnaissance team, with the rest of the troops awaiting their call to helicopter in.
When the four SEALs are discovered by a trio of Afghan goatherds they have a dilemma about what to do. The unarmed men do not appear connected with the Taliban, but the SEALs must decide whether to ensure the goatherds' silence by killing them or to release them in accordance with the Geneva Conventions. With Luttrel's prompting Murphy decides to let them go, but they realise their mission is compromised and they are soon pursue by Taliban troops.
The film lapses into a few Medal of Honor video game moments as we see Taliban picked off via the SEAL teams' gun sights, but this section is also Berg at his best as the team are beset from all sides by bullets and missiles and find themselves tumbling down steep hillsides (in a series of brutal and bloody scenes) as they try and find a way to escape.
The film does head into slightly unexpected territory as it is revealed how the 'lone survivor' actually managed to survive (not completely through his own skills, but from an unexpected source) and the final credits pay tribute to those who died. As the four SEALs, the actors have little to play with to really stamp their own identity onto the roles. Foster makes the most impact as the taciturn Axe, while Hirsch is poorly served by a loosely drawn character that gives him little to do. Wahlberg is suitably stoical as Luttrel, while Taylor Kitsch (who starred for Berg in Battleship) racks down his natural charisma and comes across as the most balanced of the bunch.
Production companies: Film 44, Spikings Entertainment, Single Berry, Emmett/Furla Films, Herrick Entertainment, Envision Entertainment, Closest to the Hole, Leverage
International Distribution: Foresight Unlimited, www.foresight-unltd.com
Producers: Peter Berg, Sarah Aubrey, Randall Emmett, Norton Herrick, Barry Spikings, Akiva Goldsman, Mark Wahlberg, Stephen Levinson, Vitaly Grigoriants
Executive producers: George Furla, Simon Fawcett, Braden Aftergood, Louis G. Friedman, Remington Chase, Stepan Martirosyan, Adi Shankar, Spencer Silna, Mark Damon, Brandt Andersen, Jeff Rice, Lauren Selig, Jason Shuman
Co-producers: Petra Holtorf-Stratton, Eric Heffron, Brandon Grimes
Cinematography: Tobias Schliessler
Editor: Colby Parker Jr.
Production designer: Tom Duffield
Music: Explosions in the Sky, Steve Jablonsky
Main cast: Mark Wahlberg, Taylor Kitsch, Emile Hirsch, Ben Foster, Eric Bana, Ali Suliman, Alexander Ludwig, Yousuf Azami, Sammy Sheik