Dir. Lionel Baier. Switzerland-France-Portugal. 2013. 85mins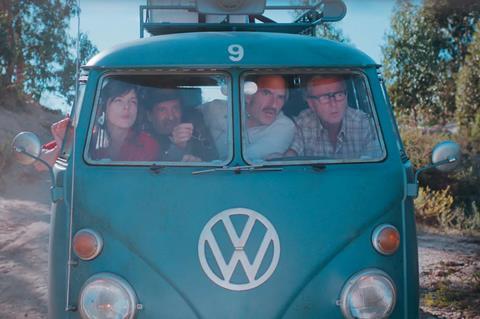 A light, harmless yarn about a Swiss Radio team unintentionally covering the downfall of the Salazar dictatorship in Portugal, Lionel Baier's film obviously works under the presumption that anything less than ticklish is not funny and anything more, stops being a comedy.
Baier's film relies to a great extent on the performance of his four protagonists, who give him all the support they can.
No wonder the result is a mildly entertaining, rather old fashioned type of humour, too cautious for its own good, but which might find grace on home screens but likely not farther afield. Swiss comedies don't travel widely as a rule, and it doesn't look as if Longwave (Les Gramdes Ondes a l'ouest) will be an exception to that rule.
It's 1974 and the Swiss government is profoundly displeased with the topics covered by the French branch of the national broadcasting service. There is too much digging in the wrong places, instead of promoting the bright image of homeland and its achievements. Therefore, the cowering boss of the broadcasting service is instructed to be constructive and tell the nation how well it is doing at home and abroad.
Eager to comply, he dispatches two journalists and a soundman to Portugal for an in-depth report on Swiss aid to what is still considered by them to be a developing country. Salazar has been running the show for the past 48 years with the help of the army and the secret police, but that is of no real concern to the team, all packed in a VW wagon, who set off on the road to reveal the great things done in this impoverished land with the help of Swiss money.
The team consists of one veteran war reporter, Cauvin (Michel Vuillermoz), who has problems with his memory but claims to have been everywhere and done everything; Julie (Valerie Donzelli) an ambitious young woman moderating an afternoon women's show, who sleeps with the boss hoping to promote her career, and veteran soundman Bob (Patrick Lapp) who sleeps in the van to keep an eye on his equipment and is getting close to retirement age.
Once Cauvin's gibberish, which according to him is Portuguese, but Brazilian style, turns out to be incomprehensible, they are joined by an 18 year-old interpreter, Pele (Francisco Belard), who picked up his French in Marcel Pagnol's movies and talks like Fanny's younger brother.
Together, this foursome find out that Swiss aid to Portugal is not much more than a bad joke, but when they are just ready to pack it all up and go back home they accidentally discover, through the intermediary of some Belgian reporters, there is trouble brewing in Lisbon.
Despite strict orders to stay out of it, they turn the VW around, go to Lisbon and have a ball with the Carnation Revolution, overthrowing the fascist tyrant and replacing him with an enlightened democracy. There is dancing in the streets and free sex and love for everybody and even the Swiss lose all their inhibitions in the process.
Looking as if it had been really shot in 1974, moving at an easy going pace through its first half and then courting the style of a musical once they get to Lisbon, with a soundtrack consisting almost exclusively of George Gershwin tunes which have nothing to do with the story but impart a cheerful mood all through, Baier's film relies to a great extent on the performance of his four protagonists, who give him all the support they can.
Donzelli, a promising director as well as actress, seems comfortable enough in the role of the feminist career woman who mellows into a later version of the young Nathalie Baye and while Vuillermoz may overplay his bumbling, old-fashioned reporter he has his poignant moments. Lapp offers solid support as an old trouper who discovers he can still be young at heart and Belard handles his incongruous Provencal lines with a natural innocence that he loses before the film is over.
Production companies: Rita Productions, Les Films Pelleas, Bande a Part Films
International Sales: Films Boutique. www.filmsboutique.com
Producers: Pauline Gygas, Max Karli, Philippe Martin
Screenplay: Julien Bouissoux, Lionel Baier
Cinematography: Patrick Lindenmaier
Editor: Pauline Gaillard
Production designer: Francoise Nicolet
Main cast: Valerie Donzelli, Michel Vuillermoz, Patrick Lapp, Francisco Belard, Jean-Stephane Bron, Paul Riniker, Patricia Andre