Dir. Ken Loach. UK/Fr/Belg/It/Sp. 2009. 116mins.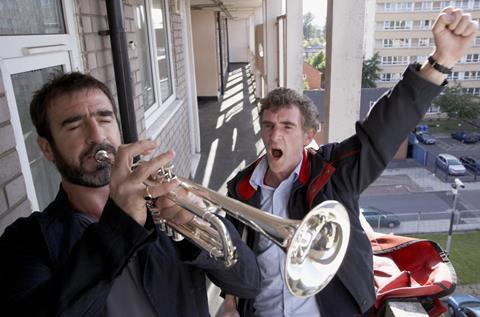 A light-hearted Ken Loach – or as light-hearted as Ken Loach gets - and his longtime writing partner Paul Laverty add humour to the social mix in Looking For Eric, Loach's tonally-varied but most widely accessible film which could end up being his highest-grosser. Audaciously dropping the French former footballer into a dramatic scenario involving a depressed Manchester postman, his off-the-rails gun-toting stepson, longed-for ex-wife and bantering salt-of-the-earth colleagues, Loach crams a few films into this unique title and manages to pull them into one crowd-pleaser by the end.
Eric runs the gamut from whimsy, social commentary, high drama and violence before moving into a crowd-pleasing, literally rabble-rousing finale
UK response could be very solid for this feel-good film (June 12), despite a lengthy running time and the jolting introduction of a heavy dramatic stand-off mid-way through what initially seemed to be a more whimsical piece. French returns will also be strong on release on May 27 – apart from his iconic status, Cantona's bon mots are often delivered in French – although action outside Europe is less certain.
Eric runs the gamut from whimsy, social commentary, high drama and violence before moving into a crowd-pleasing, literally rabble-rousing finale. And then there's Eric Cantona, standing in a postie's Manchester bedroom delivering words of wisdom. It's an odd mix, but it should all spell wider returns than his 2006 Palme D'Or-winning The Wind That Shakes the Barley (worldwide $22.8m; UK$7.5m, Fr$6.2m) and a whole new generation of viewers for Loach.
We meet depressed, middle-aged Eric Bishop (Steve Evets, another Loach discovery) as he's driving the wrong way around a roundabout, an escapade which lands him in hospital. His friends at the Royal Mail are concerned and try to cheer him up by telling jokes in some of the movie's most amusing sequences. Chief amongst them is a wisecracking Johan Henshaw as Meatballs, another great performance which often seems ad-libbed.
Slowly it transpires that Eric, abandoned and ineffectual step-father to two mouthy teenage boys, has recently come in contact again with his ex-wife Lily (Stephanie Bishop), mother of Eric's only natural child Sam (Lucy-Jo Hudson) and it has thrown his life out of kilter.
A Manchester United fan (there's some heavy-handed speechifying about the corporatisation of football), Eric is given to addressing a poster of Eric Cantona hanging in the neat bedroom of his otherwise squalid house. One day, Cantona himself is standing there (Evets apparently had no idea this was about to transpire). Cantona's function in the film is to try to bring Eric back to his life, through some enigmatic advice and sharing of spliffs.
But just as Eric starts to get the courage together to speak to Lily – they are sharing childcare duties for their grandchild - his older foul-mouthed stepson Ryan (Gerard Kearns), in with a bad crowd, ups the ante in an unexpectedly-violent way.
At this point, Loach could take the film in any direction, but he surprisingly opts for the Working Title route to pull it all together with a heart-warming finale in which the postmen come to the fore and solidarity conquers all.
Performances are as crisp and seemingly-genuine as in any Loach film – Evets and Henshaw are the main finds, while Cantona does look ill at ease at times and the aphorisms can wear a little thin. Working again with DoP Barry Ackroyd and production designer Fergus Clegg, Loach grounds Looking For Eric in complete realism – there's no attempt at trickery involving any of Cantona's scenes, even though the character is evidently imaginary.
Production companies
Sixteen Films
Why Not Productions
Canto Bros Productions
Wild Bunch
International sales
Wild Bunch
(33) 1 53 01 50 30
Producer
Rebecca O'Brien
Screenplay
Paul Laverty
Cinematography
Barry Ackroyd
Production design
Fergus Clegg
Music
George Fenton
Cast
Steve Evets
Eric Cantona
Stephanie Bishop
Lucy-Jo Hudson
John Henshaw
Justin Moorhouse