Dir: Xu Zheng. China. 2012. 105mins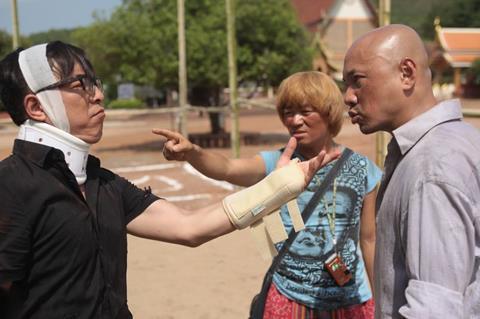 Lost in Thailand has recently become the highest-grossing Chinese film of all time. Helmed by veteran comedy actor Xu Zheng (in his directorial debut) and opened locally in mid-December 2012, the low-budget road movie is, when considered in context, a savvy attempt at wacky entertainment in a severely censored market that simply wouldn't allow for such vulgarity as The Hangover – or its 2011 sequel, which may be a better point of reference owing to its Thailand setting.
The slapstick humour in Lost In Thailand is hardly vicious but occasionally very effective.
What we end up with here is a neatly packaged series of jokes which are often funny, but mostly pretty tame by western standards; if an innocent verbal exchange pondering whether ladyboys are actually male could tickle your funny bone, Lost in Thailand would be your essential viewing. Despite its colossal domestic success, it's hard to envision a strong overseas interest for what is essentially a fairly formulaic genre exercise. The film opens in Hong Kong today.
Played by the film's producer-writer-director, Xu Lang is a career-driven businessman who's on the verge of inventing a magical petroleum enhancer 'Supergas' and being divorced by his oft-neglected wife (Tao Hong). Inadvertently joined on his flight to Bangkok by Wang Bao (Wang Baoqiang), a dim-witted pancake maker who treats the actress Fan Bingbing as his imaginary girlfriend, Xu Lang takes advantage of his new acquaintance's lack of resources after losing his own passport, which naturally brings all sorts of travel inconveniences.
Meanwhile, the protagonist also has to fend off the relentless pursuit by his college friend-turned-deadly rival co-worker Gao Bo (Huang Bo), as the two – with Wang Bao tagging along – race from Bangkok to a remote temple in Chiang Mai to track down their big boss Mr Zhou, who has in his hands an authorisation letter that would decide the fate of the potentially lucrative Supergas.
The slapstick humour in Lost In Thailand is hardly vicious but occasionally very effective. Among its relentless parade of comedic situations are a harmless dig on Bangkok's – and Beijing's – bad traffic, a trite gag in which a character is being bitten on the butt by a snake, as well as a running joke in which Xu Lang is inevitably prevented from reading the map of his destination.
Above all the silliness, however, it is the movie's sincerity towards its characters that has really resonated in its many, many paying audiences in mainland China. Rather than dealing with the thrill-seeking, hedonistic bunch of characters that have lately become a Hollywood staple, Lost In Thailand offers its audience three ordinary folks who just want to reconsider their priorities in life and serve their families better. And you just can't argue with that.
Production companies: Beijing Enlight Pictures, YYT Media, Luck Road Culture Communication, Huang Bo Studio
International sales: Golden Network Asia, www.goldnetasia.com
Producers: Xu Zheng, Abe Kwong, Chan Chi-leung
Executive producers: Wang Changtian, Li Xiaoping
Screenplay: Xu Zheng, Shu Huan, Ding Ding
Cinematography: Song Xiaofei
Editor: Tu Yiran
Art direction: Hao Yi
Action directors: Chan Shek, Lee Chi-kit
Music: Zhao Yingjun, Deng Ouge, Howie B
Main cast: Xu Zheng, Wang Baoqiang, Huang Bo, Tao Hong, Fan Bingbing