Dir/scr: Belinda Chayko. Aust. 2010.82 mins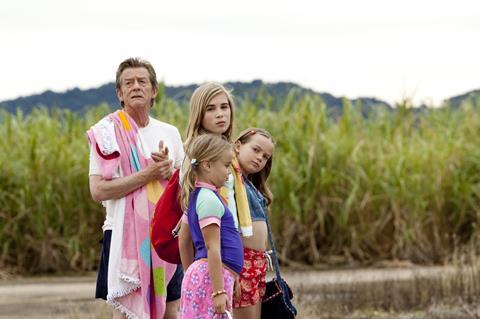 Lou is a small-scale portrait of an innocent love affair between an elderly man and his 11-year-old granddaughter. Fortunately, this slight drama features two magical performances — from John Hurt as the ex-sailor struggling through the gathering haze of his Alzheimer's disease, and from attractive young discovery Lily Bell-Tindley in the title role.
This is a highly polished miniature, clearly a labour of love.
She's an alliterative name to remember: the camera adores her. Box office returns for Lou's opening Australian week have been meagre - A$33,843 (US$29,434) from 16 screens - but the movie has some international potential for cable and disc sales thanks mainly to Hurt's dedicated presence.
Writer/director Chayko's debut feature City Loop played major festivals in 2000. This long-prepared follow-up was shot in the broad Northern NSW canefields district where she resides. Hugh Miller's camerawork makes the most of a rarely seen location, especially when the high-standing cane is spectacularly burned before harvest.
Desperate young mother Rhia (Emily Barclay) rents a rundown house standing on stilts beside the cane. Her three small daughters are bored, their father has done a runner and the debt collector keeps calling. To make some extra money Rhia agrees to look after Doyle (Hurt), the girls' paternal grandfather, who they've never met before.
With an aversion to washing himself and a tendency to spit his dinner all over the table, Doyle is an immediate handful. Eldest daughter Lou (Bell-Tindley) is at first repelled when the befuddled old man claims she is Annie, his much-loved late wife, but a delicate connection develops.
There's not a hint of impropriety and the underdeveloped climax lacks tension. This is a highly polished miniature, clearly a labour of love.
Production company: Matchbox Pictures, Screen Australia, Screen NSW, Film Victoria, South Australian Film Corporation
Australia/NZ distribution: Kojo Pictures
International sales: Bankside Films, www.bankside-films.com
Producers: Tony Ayres, Helen Bowden, Michael McMahon, Belinda Chayko
Cinematography: Hugh Miller
Production Designer: Pete Baxter
Editor: Denise Haratzis
Website: www.louthemovie.com
Main cast: John Hurt, Lily Bell-Tindley, Emily Barclay, Daniela Farinacci, Jay Ryan