Dir: Pang Ho-cheung. Hong Kong, China. 2012. 112mins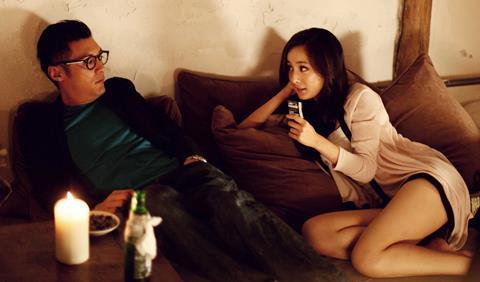 With 2010's Love In A Puff, writer-director Pang Ho-cheung (Dream Home, Exodus) scored an unlikely triumph with a chain-smoking and very chatty rom-com almost with audience word-of-mouth alone. Latching on to its rapport with the audience, Love In The Buff is a Hong Kong-China co-production that partly forgoes its prequel's quintessentially Hong Kong setting but more than makes up for it with its stream of callous yet laugh-out-loud humour; the profanities also remain.
Love In The Buff is still a relentlessly entertaining romancer that should please more than a few viewers from any culture.
The film opens the Hong Kong International Film Festival with its world premiere on March 21, before going on general releases concurrently in late-March in Hong Kong, mainland China, and various cities worldwide.
Starting off with an absurdly funny short story included presumably just to parallel the original's narrative structure, the new film quickly delves back into the relationship between cosmetic salesgirl Cherie (Miriam Yeung) and advertising executive Jimmy (Shawn Yue), which began at the end of Puff with a mutual vow to quit smoking.
As Jimmy turns out to be an immature workaholic who has an eye for beauties - all beauties - and Cherie a fed-up girlfriend who decides to move back to her mother, the former jumps at his first job offer from China and the two's affair fizzles out.
The action then shifts to Beijing, where Jimmy hits it off with a young and gorgeous air hostess (Mimi Yang) and swiftly moves in with her. Cherie will also move north - and chance upon a new admirer (Xu Zheng) - when her employer closes its Hong Kong business six months later.
The two will, of course, run into each other, and their story will settle into a monotonous pattern in which they repeatedly exchange text messages and meet up for romantic rendezvous behind the back of each other's partner - a vicious cycle that the film dares its protagonists to break out from to find their happy ending.
Although there are, as in the first film, naughty usages of Chinese slang that prove impossible to translate for the English subtitles, and the movie's three memorable cameos - of pop culture mainstays Ekin Cheng, Linda Wong and Huang Xiaoming - may not come across as funny for a foreign audience,
Love In The Buff is still a relentlessly entertaining romancer that should please more than a few viewers from any culture. The hilarious video that runs alongside this worthy sequel's end credits, which documents Jimmy's efforts to win back Cherie at the movie's climax, has to be seen to be believed.
Production company: Making Film
International sales: Media Asia Distribution, www.mediaasia.com
Producers: Pang Ho-cheung, Subi Liang
Executive producer: John Chong, Shi Dongming
Screenplay: Pang Ho-Cheung, Luk Yee Sum, based on characters created by Pang
Cinematography: Jason Kwan
Production designer: Lok-Lam Ho
Editor: Wenders Li
Original music: Alan Wong, Janet Yung
Main cast: Miriam Yeung, Shawn Yue, Mimi Yang, Xu Zheng