Dirs: Rob Epstein & Jeffrey Friedman. US. 2013. 93mins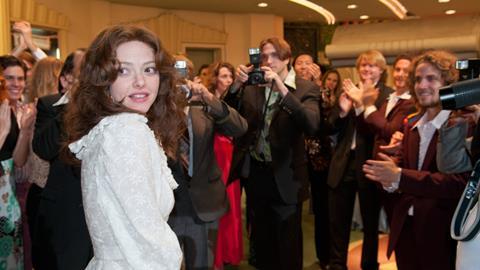 The woman the world knew as the notorious, libidinous Linda Lovelace was never as happy or sexually empowered as we believed. That's the thesis of Lovelace, a smart if somewhat familiar biopic by directors Rob Epstein and Jeffrey Friedman, who previously collaborated on the far more unconventional Allen Ginsberg portrait Howl. A strong cast topped by a quite fine Amanda Seyfried as the infamous 1970s porn star helps make this period piece both breezy and weighty at the same time, no easy feat.
Seyfried delights as this young, bubbly woman who slowly finds the attention she craves as a porn star.
Premiering at Sundance, Lovelace should gain traction because of the scandalous subject matter — she was, after all, the star of the incredibly popular porn film Deep Throat — and the marquee presence of Seyfried. A movie like Boogie Nights (which grossed $43m worldwide in 1997) demonstrates that films set in the world of pornography can be moderate hits, and certainly this biopic's lively '70s soundtrack and fun retro clothing could help its marketing push.
Lovelace focuses on the relationship between Linda Boreman (Seyfried) and Chuck Traynor (Peter Sarsgaard), the somewhat-sketchy man who discovered the young woman in her early 20s and coaxed her into starring in a porn film that made her an international sensation. (As the film explains it, Lovelace was the name given to her by the producers, figuring it sounded sexier.) These events are told in colourful, giddy flashbacks, highlighting the loving bond between the couple and her unlikely rise to stardom.
With Howl, Epstein and Friedman incorporated animated sequences and actual transcripts from Ginsberg's obscenity trial to offer an impressionistic likeness of the writer. By comparison, Lovelace is more traditional in its approach, although, in a rather clever maneuverer, the filmmakers eventually offer a contradictory version of some of the events we've seen, an acknowledgement that Linda later wrote a memoir in which she set the record straight about her brief porn career and her relationship with Traynor. By doing so, Lovelace argues that the first (happier) sequence of events is merely a fantasy — and that the second version, while darker and far less satisfying, depicts the private hell Linda went through out of the public eye.
Despite this thought-provoking structural trick, though, Lovelace for the most part is more informational than illuminating, showing Linda's family background, her rise to fame, and then her rejection of her own stardom. It does seem like a bit of a missed opportunity that Lovelace quickly wraps up her later years, not looking more deeply into her post-Lovelace life when she left Traynor and started a family with a new husband. No doubt this transition could not have been easy for her when the world still knew her as the actress in Deep Throat, so it's a shame that the filmmakers only spend a few minutes on a major portion of her life.
Still, Seyfried delights as this young, bubbly woman who slowly finds the attention she craves as a porn star. (And, in the other version of events, Seyfried is convincingly tormented due to Traynor's physical and verbal abuse, which led Linda into pornography.) Sarsgaard is stellar as both the confident, smooth-talking Traynor of the couple's early years and then the frightening monster later on. Also quite impressive is Sharon Stone as Linda's controlling mother Dorothy, a woman who bullies and antagonises her daughter in a way that Traynor will later duplicate. Unglamorous and pitiless, Stone's performance is shocking in its ugliness, which helps to explain why Linda would run off with a man as questionable as Traynor in the first place.
Production companies: Millennium Films, Eclectic Pictures, Untitled Entertainment, Animus Films, Telling Pictures
International sales: Millennium Films, www.millenniumfilms.com
Producers: Jason Weinberg, Jim Young, Heidi Jo Markel, Laura Rister
Executive producers: John Thompson, Mark Gill, Merritt Johnson, Avi Lerner, Danny Dimbort, Trevor Short, Boaz Davidson
Screenplay: Andy Bellin, inspired by the life story of Linda Marchiano and Catherine A. MacKinnon
Cinematography: Eric Edwards
Editors: Robert Dalva, Matthew Landon
Production designer: William Arnold
Music: Stephen Trask
Main cast: Amanda Seyfried, Peter Sarsgaard, Hank Azaria, Wes Bentley, Adam Brody, Bobby Cannavale, James Franco, Debi Mazar, Chris Noth, Robert Patrick, Eric Roberts, Chloe Sevigny, Sharon Stone, Juno Temple