Dir: Eduardo Sanchez. US. 2011. 99mins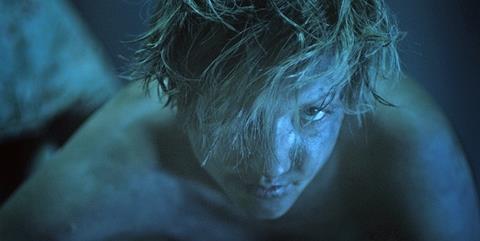 In Lovely Molly, the co-director of The Blair Witch Project returns to bare-boned horror. This time, along with the hand-held camera from Walmart and the mysterious forest, there's blood.
The film promises that Gretchen Lodge will be back to prove herself after this impressive beginning.
Blair Witch is a formidable franchise for horror fans and cinema geeks worldwide. Sheer curiosity about director/writer/editor Eduardo Sanchez's new twist on it will be strong. Purists are sure to carp, but word of mouth through social media should enable Lovely Molly to tap into that huge public in cinemas and home video. Unknown Gretchen Lodge, an astounding discovery in the lead as a haunted possessed new bride, is a solid asset for any advertising campaign. She's one reason to see it on the screen.
We're back in Blair Witch country, rural Maryland, as ex-addict Molly (Lodge) and husband, Tim (Johnny Lewis), move into a stone house where Molly's family once lived. Pictures of Molly's deceased father are everywhere. The working couple is broke. Their only insurance is a baseball bat that they keep in the upstairs bedroom in case a prowler happens by.
With Tim away some nights for his job, Molly hears noises and voices, recording what she can observe (Blair Witch style) with a super-cheap video camera that she used at her wedding. Suspecting that her father is alive somewhere nearby, Molly descends into fright and fantasy as painful childhood memories of the house are exhumed. She slips back into drugs, and worse.
The visual template of Lovely Molly will be familiar, with a quivering hand-held camera operating like a fear-seeking device in the house's creaky stairwells and prying in images of the recent past. Dread takes over as family video textures blend with those shot in minimal light on a RED camera, an extravagance by the standards of the original.
The multiple textures are an homage to an approach and a style that now seem overtaken by technology that's bounded ahead. The look is indeed Blair Witch, plus some elegance, thanks to the RED. What sets Lovely Molly apart is Lodge's performance.
The young actress's face, another crucial texture in the film, conveys impending trouble, even as Molly works at a job and indulges a healthy lust for her husband. Drugs become one weapon of self-preservation, but Molly, possessed by something more powerful than heroin, takes the gruesome offensive, weaponizing other objects at hand to kill off those around her.
Gretchen Lodge makes you think of as much of The Exorcist as she does of Blair Witch. Yet many in the audience will just be thinking of her, thanks to cinematographer John W. Rutland, who tracks her evolution from fearful newlywed to feral terror, managing to capture some radiance in the young actress along the way.
Lovely Molly won't have the transformative effect of The Blair Witch Project. It's exploring cinematic ground and a minimal vocabulary that Blair Witch already opened up. But Sanchez proves once again that it doesn't take a huge budget or special effects to scare an audience. And the film promises that Gretchen Lodge will be back to prove herself after this impressive beginning.
Production Companies/Backers: Haxan Films, Amber Entertainment
International Sales: William Morris Endeavor Entertainment +1 310-248-2000
Producers: Robin Cowie, Greg Hale, Jane Fleming, Mark Ordesky
Executive Producers: J. Andrew Jenkins, Robert Eick
Screenplay: Eduardo Sanchez, from a story by Jamie Nash
Cinematography: John W. Rutland
Editor: Eduardo Sanchez
Production Design: Music: Tortoise
Main Cast: Gretchen Lodge, Alexandra Holden, Johnny Lewis