Dir/scr: Ted Koland. US. 2012. 89mins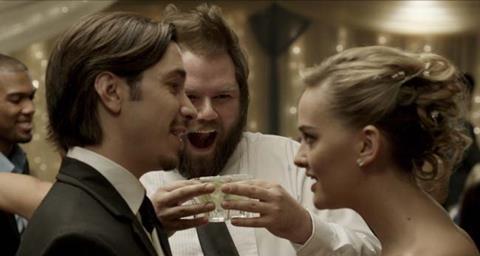 Despite having minimal screen time, the engagingly bearish Tyler Labine makes a strikingly memorable impact in Ted Koland's Lumpy, as the life-and-soul of the party best man at wedding of Scott and Kristin (Justin Long and Jess Weixler) whose death on the wedding night sparks a journey to find out what was really happening in Lumpy's life.
Tyler Labine is a genial and enjoyable presence.
A drama with some nice comedic moments, Koeland's feature debut might be modest in structure, script and directorial style, but the casting of Justin Long and indie actress Jess Weixler will help sales potential, along with casting of the likes of Frances O'Connor and Shelley Long. But the energetic Tyler Labine (who starred in Tucker and Dale vs Evil) is the dominant presence. The leaden title barely helps in terms of promotion.
After drunkenly flailing around at the Arizona wedding reception, Lumpy (Labine) smashes to the floor in his hotel room (after bouncing on his bed to a rock channel on TV). He wakes with his head bloody, stumbles outside and ends up dying in amongst the cactuses.
To his new wife's deep annoyance, Scott decides he must use the honeymoon money to arrange his his friend's Minneapolis funeral, but they set out to tell Lumpy's friends (Kristen points out there are only six numbers in his phone and two of those are pizza delivery companies), but come to realise they know little about him.
Especially when they meet Ramsey (Addison Timlin), a 15 year-old girl in a troubled home, whose oddly tender relationship with Lumpy is revealed in flashback. She saves him from a frozen lake, but their relationship is misunderstood by locals. When Scott and Kristin track her down it turns out that to her she was not a drunken oaf but actually a gentle man who offered her friendship.
It turns out she knows him far better than Scott, and he gets increasingly upset when he begins to realise this 15 year-old girl knew his oldest friend far better than he did. The revelation that his friend was more than a boisterous drunk and wanted to take responsibility for his new friend ends up being rather tender and moving.
Tyler Labine is a genial and enjoyable presence, and with Justin Long nicely underplaying he is the genial heart of the film. The film premiered at the Hamptons Film Festival.
Production Company: Koda Entertainment
International sales: Preferred Content, www.preferredcontent.net
Producers: David Abbitt, Sharyn Steele, Jen Roskind
Executive producers: Bobby Sanders, Donny Sanders, Scott Hill, John Hood, Christopher Colbert, Jeff Donald, Tricia Wood, Deborah Aquila
Cinematography: Seamus Tierney
Editor: Grant Myers
Production designer: Jade Healy
Music: Mateo Messina
Main cast: Justin Long, Jessica Weixler, Tyler Labine, Addison Timlin, Frances O'Connor, Evan Jones, Shelley Long, Michael Landes