Dir: Jorma Taccone. US. 2010. 90mins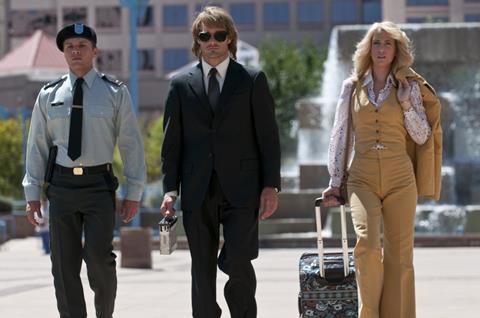 Adapted from the same-named series of Saturday Night Live short comedic sketches about a clueless, angsty soldier of fortune whose talkative nature habitually prevents him from disabling a series of bombs, the wilfully crude and vulgar action-comedy MacGruber should end the series of big screen bombs adapted from the show.
There's undeniably a woolly, shambling charm to the film.
SNL producer Lorne Michaels has tracked away from straight sketch adaptations in recent years, and had some success with Mean Girls and Baby Mama. A foul-mouthed send-up of testosterone-infused, small-budgeted '80s action flicks, MacGruber should serve as Michaels' most popular film among a young male demographic in at least a decade. It will have Stateside comedy audiences to itself for a couple weeks, and enjoy a healthy ancillary life.
Ten years removed from a decorated history of military service, a retired MacGruber (Will Forte) is pulled back into action by the threat of a loose nuke being wielded by Dieter von Cunth (Val Kilmer), the man also responsible for murdering his fiancée. Teaming up with old partner Vicki St. Elmo (Kristen Wiig) and new sidekick Piper Dixon (Ryan Phillippe), MacGruber puts his unorthodox methods to action, fashioning bombs out of tennis balls and creating diversions with celery sticks.
While technically contemporary, the movie gets plenty of visual laughs from its '80s-inspired details (MacGruber lugs his portable car stereo with him everywhere), as well as its costumes and hairstyles. Heavy on streaming background sunlight, Brandon Trost's cinematography also ably apes some immoderate, stylised instincts of the action genre.
Still, MacGruber is more of a functional than revelatory success. Its script doesn't really substantially or satisfyingly delve into a number of amusing character defects it sets up for its self-involved hero, instead preferring to just play them for cheap, set piece laughs. Younger audiences will also respond more readily to its abundant shock humour than some of the satirical or referential material (e.g., vengeful skyward screams) designed to poke fun at the subtext-free action-revenge movies MacGruber is chiding.
But there's undeniably a woolly, shambling charm to the film, particularly in the contrast found between Forte's blustery, buffoonish performance, and Wiig's tight-lipped, nervous energy.
Production companies: Michaels-Goldwyn, Relativity Media
US distribution: Rogue Pictures
Producers: John Goldwyn, Lorne Michaels
Executive producers: Erin David, Ryan Kavanaugh, Seth Meyers, Akiva Schaffer, Tucker Tooley
Screenplay: Will Forte & John Solomon & Jorma Taccone
Cinematography: Brandon Trost
Production designer: Robb Wilson King
Editor: Jamie Gross
Music: Matthew Compton
Main cast; Will Forte, Kristen Wiig, Ryan Phillippe, Val Kilmer, Powers Boothe, Maya Rudolph