Dirs: Ryoo Seung-wan, Han Ji-Seung, Kim Tae-yong. South Korea. 2014. 120mins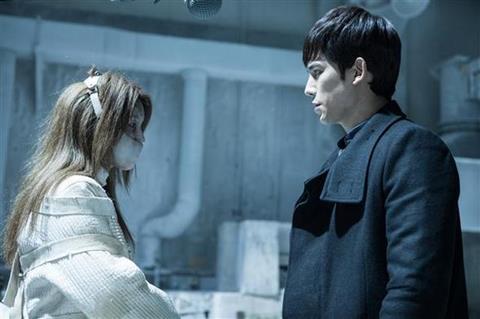 Featuring three compelling and distinctive shorts in 3D helmed by three well-established directors (Ryoo Seung-wan (The Berlin File), Han Ji-seung (Venus and Mars) & Kim Tae-yong (Late Autumn), Mad Sad Bad, demonstrates that when put in the right hands, a stereoscopic 3-part narrative-based omnibus can actually work well, and though, inevitably, some segments work better than others, it nevertheless remains worthy of attention both locally and overseas.
This omnibus feature remains an impressive collection of shorts that should be a promising addition to festivals, especially Asia or Korea specific.
After premiering as the opening film at the 15th Jeonju International Film Festival (JIFF) (May 1-10), it should further boost its profile in international territories along with its home market of South Korea where it's released on May 15, while much like the European 3D omnibus 3X3D (2013), its star power lies with the filmmakers themselves, especially Ryoo Seung-wan and Kim Tae-yong, which will be the film's biggest selling point.
Action-maverick auteur Ryoo Seung-wan kicks things off with his short Ghost that's based on a real life incident where it follows a young student called Seung-ho (Lee David) who spends much of him time in digital chat rooms and playing computer games, teams up with another student, Bi-Jen (Park Jeong-min), to help an attractive young teenager, Woo-bi (Son Soo-hyeon) who claims her boyfriend is abusing her.
Ryoo explores the disastrous consequences this all leads to in an engaging manner, and while its use of dark humour could be seen as insensitive as the two boys begin their murderous endeavor, the film's sour conclusion drums home the severity of going to such cruel and wholly misguided lengths.
Although Ryoo doesn't really exploit his talent at staging spectacular set-pieces evident in The Berlin File, it's refreshing to see him focus on a drama that for the most part remains intriguing owing in part to David Lee's absorbing leading performance together with Ryoo's script that he co-wrote with director Kim Tae-yong.
I Saw You directed by Han Ji-seung is the weakest of the three films, but it nevertheless remains an alluring experience set in the not-too-distant future where zombies have been causing havoc, but are put under control through medication, segregation and ultimately exploitation. The film's protagonist, Yeo-wool (Park Ki-woong), is a callous factory manager who relentlessly pushes the zombie workers to their limits, but at the heart of the film isn't a necessarily a critique of capitalism, but a melodrama once a zombie called Si-wa (Nam Gyoo-ri) attempts to form a connection with Yeo-wool, and while he initially rejects her advances, he begins to understand what ties them together.
Full of clichés, I Saw You, therefore fails to reach its potential, and while the mise-en-scène sometimes comes across as over-stylised and the acting perhaps suffers from being overly theatrical, Han's short remains endearing even if it feels a bit forced.
Kim Tae-yong's stupendous Picnic concludes Mad Sad Bad in perfect fashion reflecting the sensibility and mastery Kim is always able to convey and exhibit in his films, which serves to become Mad Sad Bad's masterstroke.
Scripted by Andrea Yoon and Min Ye-ji, Picnic follows a young girl, Su-min, (Kim Su-an) who lives with her seamstress mother and younger brother who appears to suffer from autism. Su-min is often asked by her mother to take care of her younger sibling when she runs errands, but she finds respite in her imagination and a comic book that she borrows. After her brother damages the book, Su-min decides to travel for a picnic where she can briefly escape from her demanding childhood.
Every frame is meticulously crafted by Kim to tell this beautiful story about a girl and her quest to find comfort in her imagination with so much elegance that when shown in 3D, it demonstrates that such a film, which wonderfully captures Korea's rural landscape, can also successfully and innovatively exploit the medium.
What also makes this short standout is Kim Su-an enchanting performance as the adorable 8-year old conveying the necessary innocence and layered emotions demanded by her character, illustrating the raw potential she is capable of going ahead as she's bound to be picked up for further roles.
As a whole, Mad Sad Bad produced by the Korean Academy of Film Arts (KAFA) – the training ground for directors such as Bong Joon ho (Snowpiercer ) and Im Sang-soo (The Taste Of Money) - hits most of the right notes and in the right order, and though not every segment utilises the stereoscopic medium in the same way as Picnic nor deliver equal amounts of strong craftsmanship, this omnibus feature remains an impressive collection of shorts that should be a promising addition to festivals, especially Asia or Korea specific.
Production company: KAFA (Korean Academy of Film Arts) FilmsInternational Sales: CJ Entertainment, www.en.cjenm.com
Series producer: Choi Ik-hwan
Ghost
Producer: Kim Jung-min
Screenplay: Kim Tae-yong, Ryoo Seung-wan
Cinematography: Lee Jae-hyuk
Editor: Kim Sang-bum, Kim Jae-bum
Music: Jo Young-wook, Hong Dae-sung
Main cast: Lee David, Park Jung-min Sohn Su-hyun
I Saw You
Producer: Han Ho-jung
Screenplay: Han Ji-seung
Cinematography: Choi Sung-won
Editor: Park Kyung-suk
Music: Jung Joong-han
Main cast: Park Ki-woong, Nam Gyu-ri
Picnic
Producers: Kim Hyung-min, Park Kwan-su
Screenplay: Andrea Yoon, Min Ye-ji
Cinematography: Kim Woo-hyung
Editor: Lee Jin
Music: Jung Jae-il
Main cast: Kim Su-an, Park Mi-hyeon