Paramount's animation scores $9.6m (£6.0m) opening, including previews, to topple Taken 2; distributor records a one-two as Paranormal Activity 4 scares up $4.1m (£2.5m).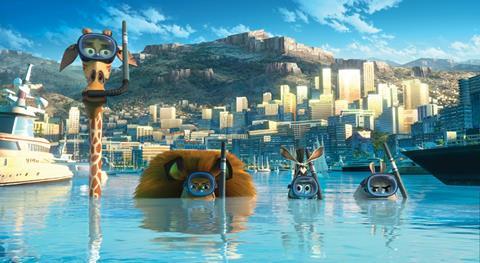 Bolstered by $3.8m (£2.4m) in previews, Madagascar 3: Europe's Most Wanted has debuted top of the UK box office, preventing Taken 2 from recorded a third straight week at number one.
Thanks to a solid $5.8m (£3.6m) taken from Fri-Sun, Paramount's animated threequel would have entered at number one regardless of previews but last weekend's outings have led to a strong $9.6m (£6.0m) official opening from its 530 sites. That tally compares favourably with the previous two entries' opening UK bows - Madagascar: Escape 2 Africa remains the strongest at $10.2m (£6.3m) from 520 (including $3.8m/£2.4m in previews), but Europe's Most Wanted surpassed the original Madagascar which opened with $8.7m (£5.4m) from 505 (including $2.9m/£1.8m in previews) in 2005.
Remarkably consistent, both previous entries went on to take over £20m in the UK with Escape 2 Africa edging ahead with $37.5m (£23.4m) compared to Madgascar's $36.3m (£22.7m). Given the lack of direct family competition set to open (although Skyfall does arrive this week) and the upcoming school half-term, expect Madagascar 3: Europe's Most Wanted to at least challenge both of those totals.
Thanks to a Wednesday opening, Paramount was able to record a one-two combo at the UK box office as Paranormal Activity 4 scared up $4.1m (£2.5m) on debut to chart second.
The fourth instalment in the ever-popular franchise (each previous entry has taken around £10m-£11m overall) did show some signs of slowing down though as its opening was down on the previous three which had all managed debuts over £3m. Paranormal Activity 2 remains the series' benchmark as it took $6.0m (£3.8m) on its way to $17.7m (£11.0m) overall.
Despite dropping two places to third, Taken 2 continued to impress in the UK. With just around a 40% drop in its third weekend, Fox's sequel added $3.6m (£2.2m) for an impressive $29.7m (£18.5m) to date and, on Fri-Sun grosses alone, Taken 2 would have been second.
Sony's Hotel Transylvania also fell around 40% as it grossed $1.6m (£1.0m) for $5.4m (£3.4m) after ten days in play. After an on-par opening, it has now fallen behind ParaNorman which stood at $6.9m (£4.3m) at the end of its second weekend.
Rounding off this week's top five was Disney's Frankenweenie which recorded a somewhat soft debut of $1.2m (£740,000) from its 411 sites.
That result is lower than director Tim Burton's previous stop motion feature Corpse Bride which spooked up $1.8m (£1.2m) and is among of the lowest debuts ever for a Burton film in the UK, ahead of only Edward Scissorhands, Beetlejuice, Big Fish and Ed Wood, all of which opened on significantly less sites.
Rian Johnson's critically acclaimed sci-fi Looper crossed £9m through eOne, following a $1.3m (£780,000) weekend, while Momentum's horror Sinister continued its good run and broke the £5m barrier to stand at $8.2m (£5.1m).
Arguably the week's most impressive performance belonged to StudioCanal's Beasts Of The Southern Wild which notched a $290,000 (£181,801) debut, including previews, from just 28 sites for a mighty $10,357 (£6,493) site average, the week's second highest behind Madagascar 3. Benh Zeitlin's debut feature, which won Best Debut Feature at LFF on Saturday (Oct 20), expands wider this week.
Fox's Ruby Sparks stands at $1m (£630,088) after ten days in play, while Lionsgate's On The Road added $130,000 (£80,886) for $623,595 (£388,667) after ten days in play.
Having played in Competition at the BFI London Film Festival, Artificial Eye opened Sally Potter's Ginger And Rosa on 38 sites, grossing $100,000 (£62,689). The result is Potter's second-best debut in the UK behind Orlando's $112,794 (£70,281) which went on to record the director's best-ever performance in the UK with $2.4m (£1.5m).
This week's only saturation release sees the much-anticipated return of James Bond with Sony's Skyfall. New Wave's Elena, Metrodome's Room 237, Soda's Sister and Kaleidoscope's Stitches are among the films receiving limited releases.
For more of Screen's box office news, analysis and charts, visit our Box Office section by clicking the icon below.