Dir: Sandrine Bonnaire. France-Luxembourg-Belgium. 2012. 99mins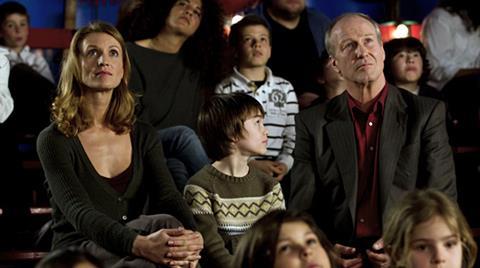 A tale of inconsolable grief sensitively told from a bizarre angle, Maddened By His Absence (J'enrage de son absence) is carried beautifully by a downright haunted William Hurt. If ever a character fit the description "There's method in his madness," Hurt's Franco-American Jacques, who returns from Boston to Paris to settle several layers of family business, is it.
Bonnaire loves to linger on and scrutinise faces.
Co-writer/director Sandrine Bonnaire whose 2007 doc about her developmentally-challenged sister Her Name Is Sabine enjoyed deserved attention, makes the transition to fiction by drawing viewers in to a story as wrenching as it is layered. This increasingly harsh but rewarding adult drama deserves a look from international distributors.
The film addresses how life does and doesn't go on after the death of a child. While that sounds like a perfect opener for the 'Flee In The Opposite Direction Film Festival', this is actually a low-key thriller with a steady hum of mysterious behaviour. Deeply serious, slightly repetitive venture should be aided by the presence of Hurt and curiosity about Bonnaire's second outing behind the camera.
Under a black screen with white credits, Hurt's voice is heard helping a very young French boy recite a nursery rhyme in English. All of Hurt's subsequent interactions are conducted in fluent, lightly accented French.
Jacques is presented at first like a potential stalker or child molester, staring intently from behind the wheel of a car as a woman accompanies her seven or eight-year-old boy to school in a Paris suburb.
In the first quarter hour we learn that Jacques' father has died, an event that prompts him to telephone Mado (Alexandra Lamy), the woman whose movements he was tracking. This is their first contact in eight years. They were once a couple. Jacques still blames himself for something that happened over 10 years ago.
Mado has remarried a tall, openly affectionate man, Stéphane (Augustin Legrand), with whom she has a child. Mado is in charge of shipping at a fabrics firm; Jacques is an architect. His late father's home is stuffed with fine furnishings and artwork to which he is the sole heir.
While the packing and legal obligations in conjunction with the estate are underway, Jacques asks to meet Mado's son, Paul (Jalil Mehenni, appealing and convincing). Jacques takes an intense interest in the boy.
The camera offers tight close-ups - Bonnaire loves to linger on and scrutinise faces - and elegant movements. As befits the worldview of an architect, we understand the lay of the land. Appearances that speak volumes are all in place, with the window to a below-ground cellar a particularly sharp piece of production design.
Reactions flow organically from carefully laid groundwork. The film explores how otherwise reasonable people can be driven to extreme behaviour. As the film advances into "How are they going to write their way out of this corner?" territory, the suspense builds to an emotional crescendo.

Production companies: Mon Voisin Productions, Mosaïque Films, Iris Productions, Iris Films
International sales: Films Distribution www.filmsdistribution.com
Producers: Dominique Besnehard, Michel Feller, Thomas Schmitt, Nicolas Steil, Jesus Gonzalez
Screenplay: Sandrine Bonnaire & Jérôme Tonnerre
Editor: Svetlana Vaynblat
Production designer: Denis Hager
Main cast: William Hurt, Alexandra Lamy, Augustin Legrand, Jalil Mehenni, Matteo Trevisan, Françoise Oriane