Dir: Ron Howard. US. 2013. 90mins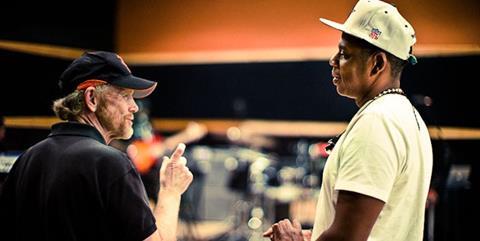 Made In America is Ron Howard's well-meaning doc report on a 2012 music festival in Philadelphia organised by the rapper Jay-Z. The rock doc is also an improbable motivational plug for patriotism, hard work and entrepreneurship.
Made In America's ode to opportunity and achievement begs for a deeper reality check.
Given the conventional wisdom that hip hop culture promotes violence, drug use and criminality, Howard has made a family concert film, a testimonial in which musicians from the wrong side of the tracks talk of rising above their tough origins through self-esteem and determination.
While conservatives and the Boy Scouts may welcome Made In America, the hip hop public that's drawn to gangster mythology may be puzzled. The doc runs on Showtime in the US October 11, but taking a wholesome American message to foreign territories might require some creative remarketing of rap. Shelf life will be limited to Jay-Z and Ron Howard fans.
The Made In America festival took place in Philadelphia over Labor Day weekend in September 2012. Sponsored by Budweiser beer (the only intoxicant promoted at the event), it featured an eclectic mix - Jay-Z, Pearl Jam, Janelle Monae, Odd Future, Dirty Projectors, and the return to the stage of the two surviving members of Run-D.M.C. Revenues benefited the United Way charity.
Howard's earnest doc tracks the parallel lines of constructing a venue for 100,000 revelers and Jay-Z's rise from Brooklyn street gangs to musical and business success. The performances draw a multi-racial crowd, a tribute, we are told repeatedly, to the triumph of racial diversity in an America that elected its first black president.
In between performances that capture the event's undeniable energy with songs filmed in their entirety, Howard himself interviews the musicians, most of whom recall being poor and discouraged until they found music – and wealth. Tyler the Creator from Odd Future and the Run-D.M.C. duo bring enough self-deprecating wit to those interviews to make this Disney-ized Woodstock more than a big group hug.
Kanye West, who makes a surprise appearance with Jay-Z, is not interviewed. Was he potentially too volatile for the Howard template?
Howard goes beyond his celebrity cast, interviewing a food vendor, a construction worker at the festival, and an elderly white woman who finds the music "annoying" from her apartment perch above the gathering. Eddie Vedder of Pearl Jam talks of the 99% suffering in the US.
Yet Made In America's ode to opportunity and achievement begs for a deeper reality check. Performers extolling their own hard work thank the city of Philadelphia, where the opportunity-deprived educational system is collapsing and houses are crumbling faster than demolition crews can level them. The city's mayor is anything but inspirational. He announces frankly, "I like money", and says he hopes the concertgoers will spend a lot of it.
Jay-Z recounts most of his inspirational life story from the back seat of a chauffeur-driven Maybach, nothing if not the bling vehicle of the one per cent.
Yet Made In America, for all its glowing love-letter innocence, shows a vast public of all races enjoying the same music peacefully, suggesting that Philadelphia, under the right circumstances, can be Mayberry, where Ron Howard started his acting career – it's a message that Howard brings to almost all his movies. Production values are high, with excellent sound given the logistics. When the music connects, the fun can be contagious.
Production companies: Imagine Entertainment, Participant Media, Radical Media
International sales: The Exchange, www.theexchange.ws
Producers: Brian Grazer, Ron Howard, Steve Stoute, Justin Wilkes, Jonathan Silberberg
Executive producers: Paul Chibe, Jay Z Carter, Jon Kamen, Jeff Skoll, Diane Weyermann, Erica Huggins, Sidney Beaumont
Cinematography: Salvatore Totino
Editor: Joshua L. Pearson