Dir: Chuck Workman. US. 2014. 93mins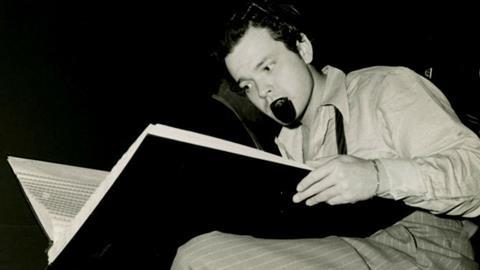 Can the life and work of an often thwarted yet amazingly prolific prodigy of stage and screen be condensed into 93 minutes? Why, yes — if splicemeister Chuck Workman is at the controls. Assembled with flair, Magician: The Astonishing Life And Work Of Orson Welles is a lively and entertaining documentary that positively swings with informative forward momentum. The recent announcement that Welles' uncompleted opus The Other Side Of The Wind is finally on track for a best-guess version as early as this coming May could give an additional boost to this December 10th release in the US. Workman's film should go on to attract viewers worldwide.
A wide array of formats is neatly blended into one near-seamless visual experience.
Workman divides the film into broad general chapters (The Boy Wonder/The Outsider/The Gypsy, etc.) covering Welles' entire life from 1915 through 1985. These he fills with vintage snippets of the late Welles holding forth in various interview settings over the years, augmented by previously filmed comments from admirers and collaborators and a pleasing ratio of original material shot for this project. The result could almost fool a novice into assuming that Welles is still alive and looking back on his antics with lucid good humour.
For however much one does or doesn't already know about Welles' artistic output, one of the film's great pleasures is the opportunity to hear Welles in conversational mode. We're reminded of the captivating stentorian elegance to nearly every utterance he makes. If Welles ever said "um" or tripped over his own tongue, there is no evidence of it here. He is also confessional without being gushing or filterless in the manner of so many contemporary celebrities.
Peter Bogdanovich shares the envy-making observation that Welles "never rehearsed." If true, that helps explain how he packed so many performances into so little time in the early decades of his career.
And his career began really early — before there were two digits in his age. Workman takes us to the Todd School in Woodstock, Illinois where the young Welles first learned he felt at home on stage — a stage that was named for him in 2013. (Welles makes the pronouncement "I must have been intolerable as a child.")
Welles' War Of The Worlds radio play scarred the national psyche, but Workman also reminds us that it inspired a cartoon in which Porky Pig is awoken from bed by "men from Mars" and led Woody Allen to incorporate the broadcast into his Radio Days.
Steven Spielberg says of Citizen Kane "It's about courage and audacity and we're going to do this my way." Welles says, in retrospect, "I didn't know what you couldn't do."
At one point Welles recounts that an Italian waiter once asked him in Italian "Did you ever make a film after Citizen Kane?'" Yep, he certainly did. The documentary manages to pack in references to nearly every film Welles undertook.
William Friedkin and Sydney Pollack offer variations on how Kane is the film every filmmaker has to measure their own work against. James Naremore says "Welles was an ideological challenge to Hollywood." At one point Welles asserts: "I don't take art as seriously as politics."
A clip is included of Robert Wise saying he's sorry that 25 minutes or so got cut out of The Magnificent Ambersons but that Welles "was away" at the time. Welles didn't speak to Wise for the rest of his life. We see a still-crushed Welles saying "The last scene — Aggie Moorehead in a third-rate boarding house. That was the best scene in the picture, and it's gone." We have no reason to doubt him.
Workman treats us to conflicting versions of the story of how Welles came to make The Lady from Shanghai. It's a good story no matter what particulars are offered at any given time. The chapter headed The Gypsy covers 1949-1957 and shows Welles making the observation that "I've spent most of my life not quite unpacked."
Which of his efforts did Welles like best? The one Simon Callow calls Welles' masterpiece: Falstaff (aka Chimes At Midnight). "If I could get into heaven on one movie, I would offer up that one," says Welles. "It's the least flawed — let me put it that way."
Callow also reminds us that Welles' staging of Moby Dick ran in London for three and a half weeks, calling it "a landmark in British theatre."
Welles' reputation in America tended to differ from the esteem in which he was held in Europe. An American poster for Touch Of Evil shows Welles in the background: But he's in the foreground as the star in a European poster.
Charlton Heston asked who was going to direct it and was told they didn't know. So he suggested Welles, saying "'He's a pretty good director, you know.' There was a long silence — as if I'd suggested that my mother direct it."
Walter Murch says Welles was "a master filmmaker who knew exactly how to make a film." And George Lucas mentions that the use of sound in Touch Of Evil inspired the use of sound in American Graffiti.
In the portrait that emerges here, nobody could fault Welles' enthusiasm although he seems to have forgotten about various wives and children when they weren't in plain sight. Chef Wolfgang Puck says "When I watched Orson Welles eat, it was like watching someone make love to the food."
An interview with Welles' companion Oja Kodar is slightly confusing as is a superficial exploration of whether Michael Lindsay-Hogg is Welles' biological son. There is no doubt that Jeanne Moreau (in an archive clip) thinks the world of Orson or that living legend Peter Brook adored working with him. Costa Gavras is suprisingly unenlightening in a recent interview but Welles really shines at the get-together with film students he attended in 1982 at the Cinematheque Francaise.
A wide array of formats is neatly blended into one near-seamless visual experience.
Welles worked on and off on The Other Side Of The Wind from 1970 to his death. While we're waiting to see how it turns out, Magician is a peppy crash course in Welles' engaging life and a reminder of how, as Peter Brook says, "One thing one can be sure of is that there wasn't before him an Orson and there'll never be a second."
Production companies: Cohen Media Group, Calliope Films, Wheelhouse Productions
International sales: Cohen Media Group, www.cohenmedia.net
Producer: Charles S. Cohen
Screenplay: Chuck Workman
Cinematography: John Sharaf, Tom Hurwitz, Michael Lisnet
Editor: Chuck Workman
With: Simon Callow, Peter Bogdanovich, Oja Kodar, Christopher Welles Feder, Norman Lloyd, Ruth Ford, Julie Taymor, James Naremore, Steven Spielberg, Henry Jaglom, Beatrice Welles-Smith, Walter Murch, Costa Gavras, Joseph McBride, Wolfgang Puck, Paul Mazursky, Jane Hill Sykes