Dir: Michel Lipkes. Mexico. 2011. 67mins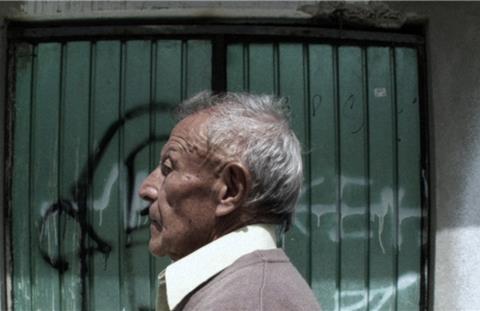 Watching the slow-burning story of the last day in the life of a marginalized old man in the seedy section of downtown Mexico City may sound like a downer, but this film refuses to be pigeonholed as such. Made with exceptional rigor and paced according to the rhythms of a senior's unexciting daily activities, Malaventura is a beautiful, widescreen observation of a lonely man shot in dark rooms and, outdoors, against the peeling but impressive architectural facades of his stomping grounds.
The film crests on a respected wave of revised minimalism.
Lipkes proves in this opera prima that he is a talent to watch. After winning a special prize at the Morelia International Film Festival, where it had its world premiere, it played in the Bright Futures strand of Rotterdam.
Occasional quirky elements (a bingo/Scrabble game in which the caller reads out a William Blake poem, the tight shots of a taco vendor chopping off every imaginable part of a pig's head) lighten the heavy topic, and, combined with the rawness—and rarity—of views could generate limited niche art-house interest in some highbrow urban markets. The film crests on a respected wave of revised minimalism—an intentional slap in the face to the baroque, melodramatic traditions that have dominated Mexican films—that has attracted some of the best domestic directors over the past several years.
The old man (Lopez, a nonprofessional who perfectly takes his time performing the simplest of tasks) is nameless. He may lack the dignity of a label, but his quotidian existence is singular: He and the bits of structure in his life are not generalized to include all people in his circumstances.
He walks the avenue, as he and we observe such startling shots as a half-demented fellow screaming out stanzas from the national anthem. He constantly drinks alcohol he keeps in a plastic bag, sits in front of a fountain selling balloons no one will ever buy: He's going through the motions, trying to find some sort of structure to justify his existence and occupy his time.
The whole enterprise feels, and is, very real: Lipkes stood for hours many days in this part of town just gazing at its residents and users before even starting to write a script. Even with the occasional odd scene, the film has a strong non-fiction feel. It is a successful fiction/documentary fusion.
In a disturbing subway scene, the otherwise sedate protagonist grabs a young woman: We realize that he has a past as a sex abuser. He wills himself to die, because he craves forgiveness he is unable to obtain, no matter how many candles he lights in the local church.
The elliptical structure of the film is logical: It begins with an extremely long take in the near total darkness of his bedroom when he awakens and prepares himself for another day without much significance, and ends the same night when he drops dead in front of the church.
What occurs in between does not point too much of a life in conventional terms, but it has been HIS life, and Lipkes does not allow you to forget it. As if to underscore the point, the old man wears bright white shoes and shirt, highlighting his presence with pools of bright light, which offset him against the sometimes-oppressive darkness. The overall ambience of, however, is effectively heightened by Duran's funereal score, Alejandro de Icaza and Jose Miguel Enriquez's chilling sound design, and Alcala's sharp, stylized cinematography, enabling Lipkes to maximally realize the vision conceived in the screenplay he co-wrote with del Razo.
Production companies: Axolote Cine, Circo 2.12 ac, Labodigital
International sales: Pascale Ramonda, www.pascaleramonda.com
Producers: Milko Luis Coronel, Michel Lipkes, Paula Astorga
Screenplay: Fernando del Razo, Michel Lipkes
Cinematography: Gerardo Barroso Alcala
Production designer: Nohemi Gonzalez
Editor: Michel Lipkes, Leon Felipe Gonzalez
Music: Galo Duran
Main cast: Isaac Lopez, Jose Alfredo Martinez, Alejandra Resendis, Manel Valderama. Graciela Castillo