Dir: Robert Stromberg. US. 2014. 97mins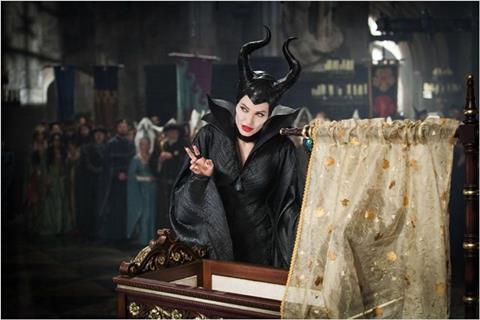 This impressively made spin on the classic fairy tale of Sleeping Beauty may well essentially be a vehicle for the many talents of Angelina Jolie, but that doesn't stop it from being a thoroughly entertaining fantasy romp. It may be a little too dark for the young kiddie marketplace that has lapped in classic Disney animation over the years, but as Oz The Great And Powerful has shown, there is a keen audience out there for elegantly made fantasy fare.
She gets to snarl and hiss but also smile and charm… perfect for Jolie's qualities. Plus she gets to wear a big old pair of horns; have her already razor-sharp cheekbones enhanced further by make-up and do a little light flying.
And yes, the film is very much an Angelina Jolie film. She – well at least her character – is front and centre for pretty much all of the film as the 'real' story of Maleficent (not the easiest of names to pronounce), the iconic evil character from Disney's 1959 version of Sleeping Beauty is revealed. And guess what? She turns out to have reasons for planting that curse on an innocent baby princess, but also comes to see the error of her ways.
Indeed it will come as no surprise that Maleficent is a movie with a message of forgiveness and redemption. Plus rather astutely it follows on from one of the themes from last year's Disney hit Frozen that love doesn't just have to come in the form of a hunky prince.
Oddly, it has been under review embargo right up until its May 28 release date, the film delivers thrills and spills, spells and laughs and enough magical wonder to keep young fantasy fans happy, but quite whether it is quitedynamic enough to entrance audiences under the spell of Godzilla and the X-Men remains to be seen. But the presence of the Angelina Jolie promotional bandwagon will guarantee plenty of press attention away from the review pages.
The original Sleeping Beauty story goes back generations and in many different forms, but Maleficent the character (the embodiment of the clichéd 'evil queen' figure) first featured in the Disney animation, created by writers, animators and actress Eleanor Audley. Sporting a horn-shaped headdress and slink black attire, she was the prefect hiss-worthy villainess who casts a spell on the infant princess that when she is 16 she will prick her finger on a spinning wheel and fall into sleep…only to be woken by true love's kiss.
For the 2014 live-action spin on the legend, it turns out that Maleficent is in fact a sweet natured fairy child, blessed with curved horns and magnificent wings. She keeps the peace between the fairy world and the human, but is conflicted when she meets a human boy named Stefan who charms her. Later, as an adult, Maleficent (Jolie) falls for Stefan (Sharlto Copley), but he betrays her and cuts off her wings as a way of impressing the dying human king and taking the throne for himself.
Driven by bitterness and revenge, Maleficent makes her way to the castle when Stefan's child Aurora is born and places the spell on her. Three pixies - Knotgrass (Imelda Staunton), Flittle (Lesley Manville) and Thistlewit (Juno Temple), who fear and feel alienated by Maleficent - are chosen by Stefan to raise his infant daughter, and to hide her away until the day after her 16th birthday.
But Maleficent watches over Aurora as she grows (played as a toddler by Jolie's real-life daughter Vivienne Jolie-Pitt in a lovely scene where the two meet) and slowly finds herself enchanted with her innocence and compassion, realising that the adult Aurora (Elle Fanning) could well be the person to bring the human and fairy lands together. Cue Maleficent's journey of redemption as she tries to deal with the terrible repercussions of her spell.
Angelina Jolie has a fine old time as Maleficent. It is a great character for her, ranging from a sweet natured young lover through to an evil revenge-driven witch and on to a compassionate woman trying to right wrongs. She gets to snarl and hiss but also smile and charm… perfect for Jolie's qualities. Plus she gets to wear a big old pair of horns; have her already razor-sharp cheekbones enhanced further by make-up and do a little light flying.
Sharlto Copley is given little to work with except grow a beard and play the duplicitous King with dark anger, while Elle Fanning's Aurora is the mirror opposite, being the vision of smiling warmth and perfection. Imelda Staunton, Lesley Manville and Juno Temple are simply there for comic effect (and very good they are too), while Sam Riley is effective as Diaval, the raven that Maleficent transforms into a man (or a wolf or dragon depending on mood) to act as her confident.
Debut director Robert Stromberg, who had won Oscars for production design work on Avatar and Alice In Wonderland and also worked on Oz The Great And Powerful, shows great sensitivity to the subject matter. Clearly at ease with the fantasy setting (the flying scenes remind of Avatar), he does a great job in pulling together a story that slows a little in the middle – as Maleficent spends most of her time as an observer – but finds it feet again as it spirals to an exciting and action-packed climax. Technically the film is spot-on – the real question will be whether family audiences warm to a character who veers from evil villain to would-be hero, but there is no denying the strength of Angelina Jolie's lead performance.
Production companies: Walt Disney Pictures, Roth Films, Moving Picture Company
Distribution: Walt Disney
Producer: Joe Roth
Executive producers: Angelina Jolie, Michael Vieira, Don Hahn, Palak Patel, Matt Smith, Sarah Bradshaw
Screenplay: Linda Woolverton
Editors: Chris Lebenzon, Richard Pearson
Cinematography: Dean Semler
Production designers: Gary Freeman, Dylan Cole
Music: James Newton Howard
Main cast: Angelina Jolie, Sharlto Copley, Elle Fanning, Sam Riley, Imelda Staunton, Juno Temple, Lesley Manville