Dir: Andy Muschietti. US-Spain-Canada. 2012. 100mins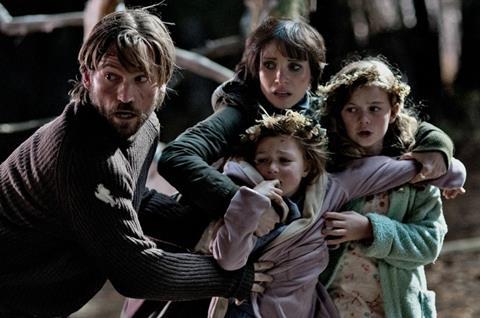 An effectively moody and atmospheric chiller about a pair of orphaned young girls who, after years of near-feral isolation in the woods, seem to bring back a spindly demoness with them when they're reintegrated into society, Mama is a serviceable scary movie that never quite coheres into something special. In his feature directorial debut, Andy Muschietti's film evinces the same mix of tony psychological horror and sinister fantasia present in some of executive producer Guillermo Del Toro's own work, but gets tripped up by clichés in the home stretch.
A big part of Mama's throwback appeal comes from its merging of practical effects and CGI.
Mama should benefit from a solid marketing campaign playing up the film's creepiness rather than any gore (it's rated PG-13 Stateside), as well as star Jessica Chastain's current awards-circuit ubiquity. Ancillary value should be strong, too, owing to the tonier elements of the production as much as the talent involved.
When a distressed father repairs to a remote cabin meaning to take the lives of his daughters before killing himself, a frightening yet protective figure intervenes. Five years later, a party hired by Lucas (Nikolaj Coster-Waldau), the twin brother of said father, finds the girls, who are still alive but have regressed to an animal-like pre-verbal state and cling to an imaginary protector known as Mama.
Lucas and his longtime girlfriend Annabel (Jessica Chastain), a tattooed rock-n-roll gal without much maternal instinct, take in Victoria (Megan Charpentier) and Lilly (Isabelle Nelisse), moving into a house provided by trauma psychologist Dr. Gerald Dreyfus (Daniel Kash). The girls, however, especially the younger Lilly, remain fixated on Mama. While Dr. Dreyfus investigates to see if there might be some historical explanation or basis for some of what Victoria tells him about Mama, the latter's manifestations have increasingly dangerous consequences.
Mama is a fleshed-out re-imagination of Muschietti's 2008 Spanish-language short film of the same name, and it bears the signs of an idea stretched in the service of trying to cover a couple different narrative dictates, with only partial success. Its concentration on and emotional investment in the spectral title character separates it from a lot of its genre brethren, and would seem to augur a more twisted fairy tale.
Muschietti's film, co-scripted with Neil Cross and sister Barbara Muschietti, only partially delivers, however. Its third act is a muddled mess. In a more broadly defined list of problems that includes sins of omission, a story strand with the cold but concerned Aunt Jean (Jane Moffat, who also supplies the voice of Mama) is muffed, and there seems a real missed opportunity to exploit Dr. Dreyfus' professional ambition as it relates to the study and treatment of the girls. Finally, the movie tips into hoary cliché when forcing the action back to the cabin in the woods, for reasons never convincingly delineated.
Both Coster-Waldau and Charpentier are good, but Mama is a bigger lift for Chastain, and it reaffirms her talents as an actress while also minting her as a star. Apart from the mere different physical look, the film shows Chastain can credibly craft a fully dimensional character within a genre piece, which should go a long way toward keeping her in high demand.
A big part of Mama's throwback appeal comes from its merging of practical effects and CGI. Javier Botet plays the bedraggled Mama, unconstrained by gravity or limb hinge-joints, and the result is at once ghastly and painterly. Cinematographer Antonio Riestra makes nice use of deep shadow, and Muschietti deploys various genre signifiers — from flickering fluorescent lights and fluttering moths to whispery sounds heard through air ducts — with a certain aplomb that should guarantee more directorial work.
But Mama also seems to pull back, afraid from bucking convention too robustly. In addition to the aforementioned narrative problems, Muschietti over-relies on a goosing score from Fernando Velazquez. The explicitly mannered nature of these jarring jump-scares seem at odds with the more reserved elements of the story — another mark of two tones not particularly well integrated.
Production companies: De Milo/Toma 78 Productions
Domestic distribution: Universal Pictures
Producers: J. Miles Dale, Barbara Muschietti
Executive producer: Guillermo Del Toro
Associate producer: Cristina Lera Gracia
Screenplay: Neil Cross and Andy Muschietti & Barbara Muschietti, based on a story by Andy Muschietti & Barbara Muschietti
Cinematography: Antonio Riestra
Editor: Michele Conroy
Production designer: Anastasia Masaro
Music: Fernando Velazquez
Website: www.MamaMovie.com
Main cast: Jessica Chastain, Nikolaj Coster-Waldau, Megan Charpentier, Isabelle Nelisse, Daniel Kash, Javier Botet, Jane Moffat