Dir/scr: J. C. Chandor. US. 2010. 109mins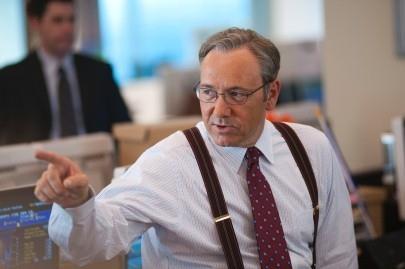 Margin Call takes another shot at the financial crisis, through a 24-hour window on an investment firm that dumps billions in toxic mortgages when those assets risk sinking the business. The boardroom drama, J. C. Chandor's feature debut, shows the financial cynics to be the first men selling and the last men standing.
Chandor's script fuels intensity by packing the drama into a tight window.
With a dream team cast and polished directing and writing for a newcomer, Margin Call will test whether financial meltdown epics are themselves toxic assets at this point. Kevin Spacey, Stanley Tucci and Jeremy Irons can still tap a deep fan base even if the story is thought to be for yesterday's papers.
Downsized at the film's start from a never-named investment firm, risk management specialist Eric Dale (Stanley Tucci) warns underlings played by Zachary Quinto and Penn Badgley that the firm's assets are more volatile than disclosed. Panic erupts upward to execs Kevin Spacey and Demi Moore, and to CEO Jeremy Irons, as the firm holds an all-night vigil to weigh its endangered future.
Chandor's script fuels intensity by packing the drama into a tight window, and his cast keeps a familiar story afloat that might have sunk with lesser actors.
As lowly analysts, Quinto and Badgley play kids out of their depth who're struck numb when they're been stuck with the truth. Bettany is icily nasty as a middle-manager accustomed to kicking down the chain of command.
Spacey, who runs the trading operation, is a salesman who's been kicked upstairs. He can barely read a financial chart; nor can CEO Irons, whose aloofness extends to an unfeeling indifference to victims of the firm's selloff. Demi Moore is credible enough as a vain upper-management cog in the corporate wheels that she doesn't hurt the drama.
Cinematographer Frank DeMarco sharpens the edge on the tension with a grey high-rise office palette. Costume designer Caroline Duncan dresses the highly-paid bankers in the chain of command. Simon Baker, another of the bank's execs, could be a model for corporate attire.
This well-told story has some false notes. Opera plays loudly in the office of one trader who seems dead in his chair, as if this were "Philadelphia 2: The Financial Virus."
As the whistle-blower who tells young colleagues that the bank exploited volatile investments, Stanley Tucci is the film's saint – to be fair, every screen financial meltdown seems to have one. Spacey's head trader is another candidate for beatitude in his parallel vigil for a dying dog.
Those flaws can be turned into marketing assets. You can just imagine Conan O'Brien's comment: "They found two honest people on Wall Street – and they both turned out to be actors."
Production companies: Myriad Pictures, Benaroya Pictures, Before the Door, Washington Square Films, Untitled Entertainment, Sakonnet Capital Partners
International sales: Myriad Pictures, www.myriadpictures.com
US distributor: Roadside Attractions/Lionsgate
Producers: Neal Dodson, Zachary Quinto, Corey Moosa, Michael Benaroya, Robert Ogden Barnum, Joe Jenckes
Executive producers: Cassian Elwes, Laura Rister, Josh Blum
Cinematography: Frank DeMarco
Editor: Pete Beaudreau
Music: Nathan Larson
Main Cast : Kevin Spacey, Paul Bettany, Jeremy Irons, Zachary Quinto, Demi Moore, Stanley Tucci