Dir/scr: Jean-Pierre Ameris. France. 2014. 95mins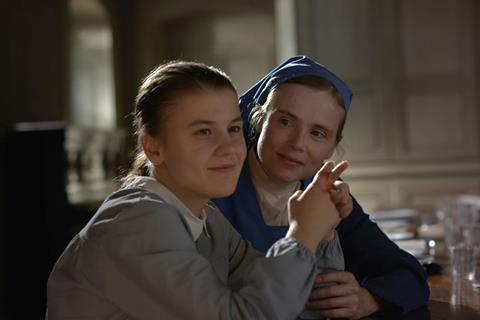 Jean-Pierre Ameris' new film reads pretty much like a softer, religious version of The Miracle Worker and while never attempting to match Arthur Penn's tense dramatic punch, he prefers a far more pastoral, less methodical approach, relying to a great extent on the performances of Isabelle Carre and young newcomer Ariana Rivoire, whom he found in an institute for the deaf, where she was still enrolled while shooting the film.
Bound to be tagged an inspirational tale of unfaltering faith and a serious candidate for every Ecumenical prize on sight
Marie's Story (Marie Heurtin) is inspired as much by the story of Marie Heurtin, a 10 year-old deaf, mute and blind girl educated at the Larnay Institute near Poitiers, in France, at the end of the 19th century as by the similar, but far better known case, of Helen Keller,
The Larnay Institute, at that time a religious convent run by "The Sisters of Wisdom" nuns, was dedicated to the education of deaf and mute children, but when Heurtin's parents brought their daughter Marie (Rivoire) in she was first turned down since her blindness prevented the classic use of sign language and there seemed to be no other apparent way for the nuns to communicate with her.
Thanks to the insistence of Sister Marguerite (Isabelle Carre), who volunteered to dedicate herself exclusively to the girl, and the faith she deployed despite the repeated failures of all her early efforts to break through the barriers separating them, Marie was not only accepted but, in the course of time and after many setbacks, became fully conversant in sign language, mastered the Braille alphabet, learned to use a typewriter, to play dominoes, to sew, knit and eventually grow into a self-sufficient young woman.
Though a graphic portrait of the method used by Sister Marguerite was published over a hundred years ago by Louis Arnould in a book entitled Soul In Prison, Ameris prefers to dwell in detail only on a single significant stage in the process, teaching her pupil to use sign language For the rest, the script prefers to imply that it is only through painstaking patience, utter devotion and an enormous amount of faith, that Sister Marguerite, despite the declining state of her own health, finally broke through the wall of silence separating Marie from the rest of the world.
The first part looks almost irritatingly familiar in its account of miracles that remain a bit too intangible for comfort, but once these miracles are satisfactorily established, Ameris seems to be far more comfortable dealing with Marie's growing attachment for her tutor, the crisis erupting when Sister Marguerite is sent up for a cure in the mountains without Marie being told about it and in the later stages when the girl has to face and accept the concept of death.
Carre - who has acted for Ameris before - and Rivoire, who bravely holds her own against her experienced partner, finally get a chance to shine in the film's later stages after giving up their wrestling contests, which fill up many of the film's early scenes.
Bound to be tagged an inspirational tale of unfaltering faith and a serious candidate for every Ecumenical prize on sight, there is only one serious question which remains unanswered after the final credits: what is the meaning of the Jewish folk music played at the end over a visit to a Catholic cemetery. Is this a mystic message that needs to be unraveled?
Production company: Escazal Films
Sales contact: Indie Sales, neschbach@indiesales.eu
Producers: Denis Carot, Sophie Revil
Screenplay: Philippe Blasband, Jean-Pierre Ameris
Cinematography: Virginie St. Martin
Main cast: Isabelle Carre, Ariana Rivoire, Brigitte Catillon