Dir David Frankel. US. 2008. 116 mins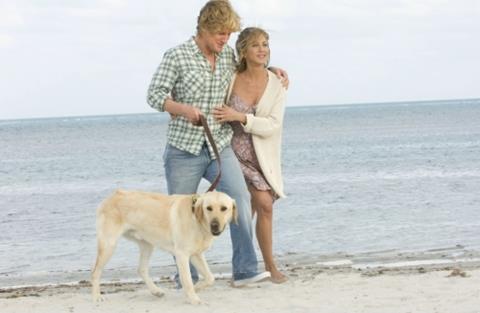 While it delivers the requisite sniffle-inducing ending and a few other affecting moments, Marley AndMe is mostly a bland and miscast screen version of American columnist John Grogan's best-selling memoir about his young family and 'the world's worst dog'. Fans of the book, parents and dog lovers - targeted by an ad campaign which gives the cute puppy precedence over stars Owen Wilson and Jennifer Aniston - will probably get some emotional kicks and the odd chuckle out of the Fox/Regency dramedy. But even some members of those groups may choose to wait until this holiday season trifle shows up on DVD or TV.
The emotional turning points which gave the book its dramatic shape feel rushed on screen
Fox has put the PG film up against weightier competition for its Christmas Day North American opening, presumably hoping it will work as the least demanding option for festivity-fatigued moviegoers. Whatever happens, takings seem likely to drop off fast once the holiday is over.
In the international marketplace (where most openings are set for February and March), Wilson and Aniston are a moderate draw, but the dog appeal and literary pedigree will be selling points in Western countries.
Like Grogan's folksy yet effective 2005 book, the film starts in Florida, where newlyweds John and Jenny (Wilson and Aniston) take jobs at competing newspapers and buy their first home. Preparing themselves for parenthood, they get Marley, a cuddly yellow Lab puppy who grows into a 100-lb terror who destroys furniture, flunks obedience school and eats just about everything in sight.
Marley's lovably bad behaviour is the constant backdrop for the ups and downs of Grogan family life: a failed pregnancy is followed by the arrival of three kids in quick succession; Jenny gives up her career and John agonizes over the direction of his; the marriage falters and recovers; and the family moves from Florida to an idyllic Pennsylvania farmhouse.
Surprisingly, dog action is in shorter supply in the movie version than it was on the page. The cute puppy years are passed over quickly and the adult Marley comes to the fore mainly in a handful of montages, most of which involve the dog haring off with either Wilson or Aniston in pursuit and a bouncy pop-rock number on the soundtrack.
The human comedy is not much more sophisticated, which is even more surprising given that the script comes from Scott Frank (Out of Sight) and Don Roos (The Opposite of Sex).
Wilson and Aniston are fine as the young, sexy, wisecracking Grogans, though they don't have a great deal of chemistry. Neither, however, looks the part of a harried parent of three and the film does little in the make-up or costume departments to give the characters a more believable appearance.
Director David Frankel (The Devil Wears Prada) keeps things moving at a very brisk pace and while the approach works well for comic scenes, the emotional turning points which gave the book its dramatic shape feel rushed on screen. In particular, neither John nor Jenny seems to really bond with Marley, which undermines the book's concept of the dog providing an emotional example to the humans.
After its breezy first act the film goes into a second act that's intended to be darker and more dramatic but doesn't convince on either count. A little momentum begins to build up in the melodramatic third act, but only because the ending - for which all pet owners will need a hanky - is signalled well in advance.
To sign up for Screen's weekly Reviews Newsletter with all the week's new releases, international openings and full festival reviews delivered free to your mailbox every Friday, please click
HERE
Production companies
Fox 2000 Pictures
Regency Enterprises
Sunswept Entertainment
International distribution
Fox
Producers
Karen Rosenfelt
Gil Netter
Screenplay
Scott Frank and Don Roos, based on the book by John Grogan
Cinematography
Florian Ballhaus
Production design
Stuart Wurtzel
Editor
Mark Livolsi
Music
Theodore Shapiro
Main cast
Owen Wilson
Jennifer Aniston
Eric Dane
Kathleen Turner
Alan Arkin