Dir: Choo Chang-min. South Korea. 2012. 131mins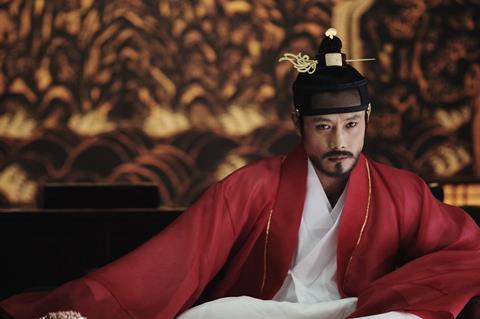 Masquerade is a sumptuous historical drama with a standout performance by hot star Lee Byung-hun, but suffers, albeit marginally, from a weak middle act. But it is yet another local film to dominate the South Korean box office, which is fast approaching ten million admissions (approx $64m), reinforcing the point that locally made films – especially those riding the current wave of popularity for South Korean culture and entertainment - can more than succeed with South Korean audiences.
Lee Byung-hun delivers one of his finest performances to date.
Following its well-received previews, the film was expected to perform well, which has been aided by a number of public holidays, but given that September is usually a quieter period for releases, the pace in which it passed the nine million admissions mark (approx $60m after a month on release) has been surprising.
Taking place during the 16th-Century Joseon Dynasty, the film follows a commoner who becomes a stand-in for a King he shares a striking resemblance to (both roles played by Lee Byung-hun) after he is poisoned. Unlike the King, he takes a more humanitarian approach to his role as the Korean monarch and instead focuses on serving the people. Interestingly, with a South Korean presidential election taking in place in December, these themes of leadership and power have perhaps aided in the film's popularity.
Given the lack of any overly complex themes, Choo Chang-min's well-orchestrated piece is a welcome edition to the period genre that often demands some knowledge regarding the history and customs. Furthermore, given the film's highly effective comedic tone, especially in the film's first half, it shouldn't encounter difficulties in seeking an international audience.
Some viewers, however, may find some highly noticeable similarities to other material and films - such as the classic story The Prince And The Pauper along with 1993's Dave or even the John Goodman starrer King Ralph - that share a lot in common with the film's premise of a member of the public masquerading as a leader.
There is also a minor issue in terms of the film's pacing after it struggles to regain the momentum found in the opening act, but it does return in welcoming fashion as the film approaches the compelling conclusion.
Visually, the film is outstanding as illustrated through its gorgeous cinematography and superb set-design that is best seen on a theatrical screen, which is further complemented by a simple but effective score composed by Mowg and Kim Jun-seung.
Lee Byung-hun who has established fame in Korea and beyond following his roles in films such as JSA (2000) and A Bittersweet Life (2005), and more recently in Hollywood's G.I. Joe: The Rise of Cobra (2009), delivers one of his finest performances to date conveying the two contrasting characters that is certain to continue to attract widespread acclaim.
While it will be difficult to replicate the tremendous success witnessed in Korea, the film is bound to attract immediate interest in neighbouring territories, while it could also secure sales in a number of other regions.
Production: CJ Entertainment, Realize Pictures.
World Sales: CJ Entertainment, www.cjent.co.kr/eng
Producer: Chung Ji-hoon
Writers: Hwang Jo-yun & Choo Chang-min
Cinematography: Lee Tae-yoon
Music: Mowg and Kim Jun-seung
Editor: Nam Na-young
Main Cast: Lee Byung-hun, Ryu Seung-ryong, Han Hyo-joo, Jang Kwang & Kim In-kwon