Dir/scr: Marc Bauder. Germany-Austria. 2013. 90mins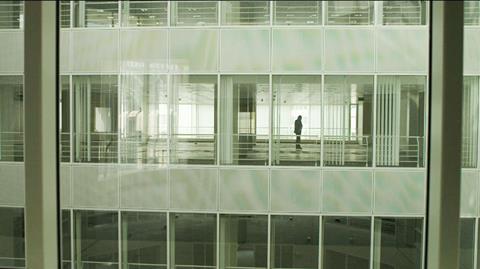 The practicalities, worries and woes of working in the financial markets is under examination in Marc Bauder's beautifully shot and elegantly absorbing documentary Master Of The Universe, which glides through office blocks and city streets looking at the financial world of Frankfurt from the outside, interspersed with interviews and voiceovers.
Rather bleak in tone, Master Of The Universe is an unsettling and distant film.
Rather than dwelling on the world's financial problems in terms of facts and figures, though, it prefers to examine – with a delightful music track over the top – the realities of working in the market, in often calm and sober terms, with workers explaining the practical realities of what it was and is like to work in this financial environment.
Rather bleak in tone, Master Of The Universe is an unsettling and distant film (much of the footage is of long shots at skyscrapers, or from tall buildings look at the roads and traffic below) that straightforwardly reveals the attitudes of top-level financial businessman who work in a world where everything is about making money.
The film opens with a rather chilling analysis of how a worker might reach the top of a company by agreeing to work through the night and displaying absolute loyalty to the firm. As he adds: "It is like being in the army".
One man – some interviewees are not named – wanders the empty floor of an office tower block, wrapped in a scarf, explaining how clients would be manipulated, how much money he might earn and the lives those around him lived. What is clear is how separate the financial world is from the realities of ordinary people. The talk is all about big earners and worries about losing bonuses, rather than how their actions might impact on the real world.
The only sense of 'action' comes from footage of the interviewees watching footage of bankers jailed from over speculating and spending the bank's money unwisely or of top bankers grilled about their mistakes, and while Bauder makes no attempt to make an explicit point, only that the financial system seems to make the same mistakes and cares not a jot for the realities outside their ivory towers.
Production company: Bauderfilm, NDF Geyrhalterfilm, Hessischer Rundfunk, Sudwestrundfunk, arte
International sales: Autlook Films,
Producers: Marc Bauder, Nikolus Geyrhalter, Markus Glaser, Michael Kitzberger, Wolfgang Widerhofer
Executive producer: Gunter Hanfgarn
Cinematography: Borres Weiffenbach
Editors: Rune Schweitzer, Hansjorg Weilbrich
Music: B. Flesihmann
Website: http://www.bauderfilm.de