Dir: Stuart Urban. UK. 2012. 88mins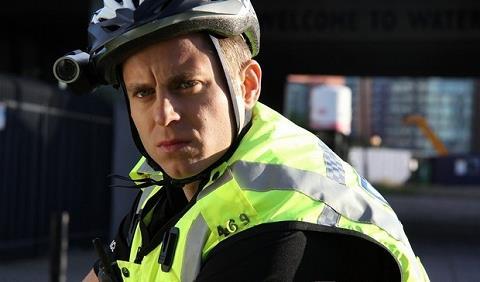 A zeitgeist-riding black comedy which springs out of last year's London riots and touches on social media celebrity, inner city crime paranoia and a sudden Olympic-inspired craze for hard cycling, may i kill U? has a great deal of interesting editorial content and some fine performances – up-and-coming Kevin Bishop (A Few Best Men) is excellent in the lead and there's outstanding work from veterans Frances Barber and Rosemary Leach – but suffers from too many tone shifts tone from crotchety comedy to slapstick horror.
The film uses onscreen tweets and other social media running commentary to contextualise its central character.
Made quickly and cheaply in response to headlines, it's a little unfocused in its attitudes to crime and punishment – with a streak of middle-class vigilante wish-fulfilment that ranks it alongside Harry Brown as an unhelpful document of London's troubles. The film premiered at London's FrightFest genre festival.
Police Constable Barry Vartis (Kevin Bishop), nerdy in a high-visibility jacket and bicycle crash helmet, is a community policeman on a bike, ridiculed as ineffectual by the rowdies on his beat and aggrieved citizens who'd rather have RoboCop on their patch. When a local troublemaker knocks him off his bike, he sustains a head injury which perhaps alters his personality – though his mad mum Bernice (Barber) is already working hard on turning him into Norman Bates – and he loses his inhibitions about violent retribution.
During the riots, he comes across the afro-Caribbean thug (Tyson Oba) who injured him (though racial conflict isn't emphasised). Upon hearing that the felon would rather die than go to jail, Baz batters him to death with a stolen flatscreen TV, filming the incident with his helmet-cam and posting the footage online.
Gaining many supporters for this action, Baz continues his crusade, resisting his nagging mother and overconcerned police partner (Hayley-Marie Axe), building up an online presence as '@N4cethelaw' and taking his extreme methods to offenders ranging from Bulgarian sex traffickers – from whom he inherits a non-anglophone girlfriend (Kasia Koleczek) who ticks off his mother – to a middle-class OAP shoplifter (Rosemary Leach), who leaves him her house. In a frame story, Baz recounts his experiences to a petty criminal (Jack Doolan) in what seems at first to be a police interrogation but turns out to be a quite different set-up.
Writer-director-producer Stuart Urban's last fiction feature, also a FrightFest selection, was the theological thriller Revelation (2001); this new film returns to the London-centric concerns of his sex comedy Preaching To The Perverted (1997), albeit tackling violence rather than sex. It uses onscreen tweets and other social media running commentary to contextualise its central character, though mad copper Barry Vartis turns out to be more a product of psychosis-inducing upbringing (and, perhaps, that behaviour-modifying plot turn favourite – the blow to the head) than current trends in street crime and civilian frustration. For such a hand-to-mouth exercise, the technical credits are very smooth.
Production companies: Vectis Vision, Cyclops Vision
International sales: Moviehouse Entertainment, www.moviehouseent.com
Producers: Alan Jay, Stuart Urban
Executive producers: Gary Phillips, Mark Vennis
Screenplay: Stuart Urban
Cinematography: Fernando Ruiz
Editor: Christopher C.F. Chow, Fernando Ruiz
Production designer: Sabina Sattar
Music: Haim Frank Ilfman
Website: http://mayikillu.com/
Main cast: Kevin Bishop, Jack Doolan, Frances Barber, Hayley-Marie Axe, Kasia Koleczek, Rosemary Leach, Tyson Oba