Film-maker Shane Meadows tells Sarah Cooper about his latest feature, Le Donk & Scor-Zay-Zee, shot over five days for a mere $75,000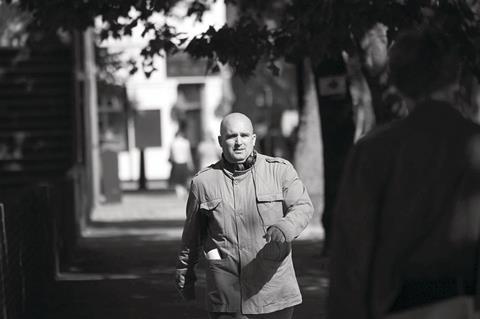 UKfilm-maker Shane Meadows has a habit of delivering more than was intended. His 2007 film Somers Town started out as a short and became a feature. His latest feature Le Donk & Scor-Zay-Zee, was meant to go straight to DVD and is now being released theatrically by Warp Films in the UK on October 9. Even his Le Donk party at the Edinburgh Film Festival, which took place in a church hall and cost $485 (£300), ended up being voted "party of the week" by The Independent newspaper.
"It's best to keep your ambitions small and then you won't be disappointed," Meadows laughs.
"If we had been out there trying to get funding with no script and no big stars, it wouldn't have been very sellable"

Shane Meadows
With an impressive oeuvre that ranges from the now classic Twentyfourseven in 1997 to violent revenge thriller Dead Man's Shoes in 2004 and Bafta-winning This Is England in 2006, Meadows is, whether he likes it or not, one of the UK's leading independent film-makers. But while most directors in his position would have cashed in on their success, Meadows did the opposite when he made faux documentary Le Donk last year on a budget of $75,000 (£46,000).
The 70-minute feature sees Meadows' regular collaborator, Paddy Considine, as rock roadie and failed musician Le Donk — a character conceived by Considine while at college with Meadows 17 years ago — who is trying to promote rap artist Scor-Zay-Zee. Meadows also appears in the film as himself, along with producer Mark Herbert of Sheffield-based Warp Films, who also produced Dead Man's Shoes and This Is England.
The project was funded by Warp together with cash provided by Meadows, Considine and Herbert. "If we had been out there trying to get funding with no script and no big stars, it wouldn't have been very sellable. So we did it with our own money and, as it turned out, people wanted to buy it off us." Protagonist is handling international sales.
Meadows was not fazed by the low budget. "There are two types of genre which work on a low budget — horror and comedy. With comedy, it doesn't have to be shot on 70mm in a studio, it's just about making people laugh," he says.
Made in five days, it coincides neatly with Warp's Five Days Feature programme, an initiative which invites film-makers of all levels to shoot a film in five days. "This Is England took two years to make and it was exhausting. I like doing films that have a low impact on my life," says Meadows.
Based in Nottingham in the UK's East Midlands, where he grew up and where most of his films have been set, Meadows is quick to point out the virtues of working outside of London. "We have a regional film fund, EM Media, and whereas in London you have so many people vying for the same funds, here there are far fewer people trying to get money. It means I'm a big fish in a small pond."
In 2008 Meadows attracted some controversy when he made the London-based Somers Town with funding from Eurostar. "At the time I had people criticising me, but a year on, when it's so difficult to make a film, people would probably pat me on the back for finding a different way of getting one made," he says.
Meadows says his next feature is "90% likely to be Beware The Devil". Based on a true story about a man who became an exorcist, it is the first time Meadows has used existing material for one of his films. "I wouldn't call it a horror, but it has elements of the scarier parts of Dead Man's Shoes. It harks back to psychological thrillers like Don't Look Now," he says.
Again produced by Herbert, Beware The Devil may be Meadows' biggest-budget film to date, but, he says: "I'm not one of those directors who wants to steadily increase their budget with every film."
For now, his most important project is recording his 10-month-old son crawling. "Although I'd better be careful," he says. "Because at this rate, it'll probably end up being an action feature."
Shane Meadows
Meadows' film career began in 1994 when he was ìchucked out of collegeî and borrowed a camcorder to make short films with his friends at weekends.
On the back of short Where's The Money, Ronnie?, Meadows was commissioned by Channel 4 to make the documentary King Of The Gypsies.
In 1995, his 60-minute film Small Time won the Michael Powell award at the 1996 Edinburgh festival.
In 1997, Twentyfourseven won the Fipresci award at the Venice film festival.
In 2002, Meadows' homage to the Spaghetti Western genre, Once Upon A Time In The Midlands, was selected for Directors' Fortnight in Cannes.
In 2008, This Is England won the best British film award at the Baftas.