Dirs/scr: Gabrielle Provaas, Rob Schroder. Netherlands. 2011. 75mins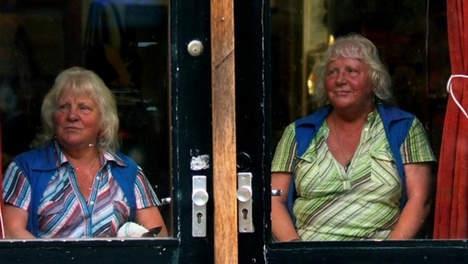 Thoroughly entertaining and charming, the Dutch documentary Meet The Fokkens is a good-natured delve into Amsterdam's famous – and infamous – red light district, as seen through the eyes of elderly twin sisters Louise and Martine Fokkens, who have worked as prostitutes there for more than some 50 years.
The Fokken sisters are strong-minded and genial company.
The fact that their surname means the film has a title of sheer perfection is one thing, but these engaging, warm-hearted and eternally optimistic women make for great company as they tell their life story. Some sex sequences may need a little trimming for television, but it is the genial sort of film that should appeal to broadcasters (maybe in late night slots) and festivals. The film premiered at IDFA in the Dutch Documentary competition section.
Louise stopped worked two years ago but Martine is still working – she wants to quit but financially can't afford it – but the twosome still spend plenty of time together, with Louise visiting Martine at the small brothel she works in; the pair off for walks and meeting old friends, or simply popping by each other's flat…naturally they live close together.
The film also charts the changes in Amsterdam's red light area, with the sisters having charming fond memories of when they were blonde, beautiful and relished fashion and style in their early years in Amsterdam. They debate how they initially became prostitutes; how they went into business for themselves only to be forced out of their brothel by rising costs and shady characters and how the world of prostitution has changed over the years.
They wander streets chatting to shopkeepers and locals (including their old local policeman, now retired by doing part-time work as a postman) and mull over changes. They happily detail the sexual aspects of their work and their attitude to their 'clients" and at one point laugh about one client who was a chaplain (they also had a regular rabbi) and recall that they used to have a little confessional.
Louise has a daughter while Martine seems to spend a good deal of time with religious do-gooders who are keen to see her out of the business, though the sisters are at their happiest when they are busy churning out bright and cheerful paintings. The high point of the film is the opening party at a gallery for their exhibition, which sees champagne flowing and old friends and family mingling with art aficionados.
The film is gentle and oddly respectful – though there are a few scenes of Martine doing what she does with some clients – and the Fokken sisters are strong-minded and genial company. The film is not trying to raise any moral issues about prostitution, but rather simply telling the story of two candid pensioners whose verve and personality has got them through tough years in the world's oldest profession.
Production companies: Submarine, VPRO
International sales: Autlook Films, www.autlookfilms.com
Producers: Bruno Felix, Femke Wolting
Executive producers: Fabie Hulsebos, Lieke van den Ouwelant
Cinematography: Wiro Felix
Editor: Sander Vos
Music: Danny Malando