Dir: Tom McGrath. US. 2010. 95mins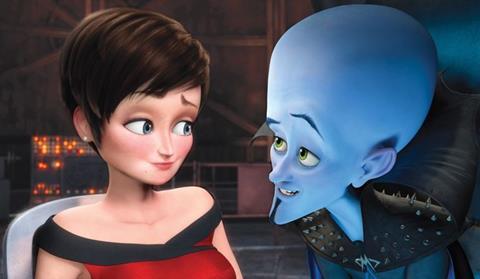 A super-villain awakens to the possibility of the virtues of decency and integrity with Megamind, a slightly manic but dependably enjoyable animated effort that assays the symbiotic nature of good and wickedness. Voluminous joke output and a winning vocal performance by Will Ferrell jointly power this peppy entry, which seems poised somewhere between familiarity and freshness.
The film's technical-visual package and 3D presentation are each polished and appealing.
Bearing a strong narrative similarity to this summer's Despicable Me, Megamind will try to keep pace with that film's $455 million worldwide gross, of which more than $200 million came abroad. Three weeks of domestic theatrical running room before any animated competition should help, as well as 3D ticket prices, generally positive word-of-mouth, and some jokey asides pitched at older audiences.
A brisk, streamlined prologue establishes both Megamind's extraterrestrial origins and schoolyard estrangement, where loneliness leads him to embrace being bad. As an adult, all of Megamind's nefarious criminal plots are thwarted by the heroic Metro Man (Brad Pitt), but Megamind finally, mortally gets the best of him at the opening of a museum honoring the superhero's feats.
Now lacking a suitable foil, Megamind lapses into depression, even as he and his aide Minion (David Cross) rule Metro City. Under an assumed identity, Megamind tries romancing reporter Roxanne Ritchi (Tina Fey), the frequent target of his kidnappings during battles with Metro Man. He then gets the idea of imbuing a new superhero with powers and reestablishing the balance of good versus evil. But when Tighten (Jonah Hill), fed by jealousies over Roxanne, runs amok, Megamind finds his own interests suddenly and surprisingly aligned with protecting Metro City.
Brent Simons and Alan Schoolcraft's screenplay is restless and consistently forward-moving, a bundle of action and chatter. Yet it allows for its characters to dip into banter that reliably and engagingly plays off of their performers' live-action personalities a bit, while never devolving entirely into standalone "bits."
Director Tom McGrath (both Madagascar films) ably oversees the action and pacing, though the movie seems to occasionally and unnecessarily overreach in its editorial efforts to connect to adults (musical cues include AC/DC, Michael Jackson and Guns N' Roses).
The film's technical-visual package and 3D presentation are each polished and appealing, from costume and character work to, especially, charged action-battle sequences that incorporate cityscape destruction.
A bit more could be done with the character of Roxanne's investigatory prowess, which would lend the movie further gender balance, but, hearteningly, Fey spins gold out of her spunky, chiding oversight of Megamind. Vocally, Ferrell has a unique gift with unearned confidence and blithe obliviousness — a trait which powers Megamind, and gives comedic lift and credence to its particular vision of evil's arrested infancy.
Production companies: DreamWorks Animation, Pacific Data Images, Red Hour Films
Domestic distribution: Paramount Pictures, www.paramount.com
Producers: Lara Breay, Denise Nolan Cascino
Executive producers: Stuart Cornfeld, Ben Stiller
Screenplay: Alan Schoolcraft & Brent Simons
Editor: Michael Andrews
Production designer: David James
Art director: Timothy Lamb
Music: Hans Zimmer and Lorne Balfe
Website: www.megamind.com
Main voice cast: Will Ferrell, Tina Fey, Jonah Hill, David Cross, Brad Pitt, Justin Theroux, J.K. Simmons