Dir: Deepa Mehta. Canada-UK. 2012. 148mins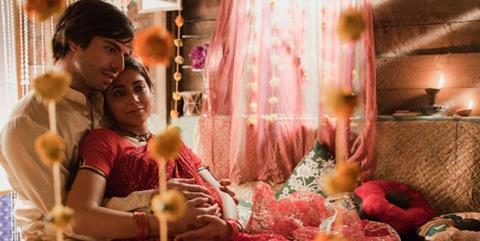 Salman Rushdie's epic novel of lives "handcuffed to history" emerges on screen as a sprawling, picaresque yarn that downplays the magic realist sensibility of the book in favour of a languid, tenderly felt soap opera exploring great expectations, broken hearts and the healing power of love. Director Deepa Mehta's respectful approach to the material may meander and simplify, but it gradually gains in emotional power, building into a moving account of a man whose many experiences mirror the growing pains of an independent India.
Midnight's Children may not please all the fans of the 'unfilmable' book but there is enough heart and soul in Mehta's adaptation to attract a wide audience.
The enduring reputation of Rushdie's Booker Prize-winning novel and the warm accessibility of the adaptation should result in Midnight's Children emerging as a prestige, middlebrow arthouse attraction. First published in 1981, Rushdie's novel has gained the status of a modern classic that offers a love letter to India with all its flaws and failings, hopes and longings.
It seems entirely appropriate that Rushdie provides the wry, sometimes rueful narration that is lightly spread over a gorgeous-looking film that stretches from Kashmir and Agra in the 1940s to Karachi, Dacca and then New Delhi in the 1970s. His narration is used sparingly enough not to seem an intrusive literary device.
The film's focus lies in the life of Saleem, one of the children born on stroke of midnight on August 15, 1947, the very moment that India declares its independence from Great Britain. In order to understand that life, the narrative stretches back to the romance of Saleem's grandparents. When Saleem Sinai is eventually born in Bombay, a nurse swaps him with Shiva, the offspring of a wealthy couple. Their lives and fates remain intertwined through personal heartache and political events that shape India and Pakistan during years of conflict, civil war, corruption and division.
Historical events of the thirty years between independence and the downfall of Prime Minister Indira Gandhi are given enough prominence to be informative but it is clear that Mehta's heart is drawn more towards the hearttugging emotions of Saleem's journey than the bigger picture.
The 'Midnight Children' of India have been born with a magical gift and Saleem has the telepathic power to conjure all of the children born on the stroke of midnight into his presence. He can hear their voices, including that of Shiva who becomes a feared figure in the military and Parvati who helps him return to India after a lengthy exile in Pakistan.
The film constantly returns to tales of family and forgiveness, fraught relationships between fathers and sons, misunderstandings, secrets, lies, deceptions, confessions and the hope of redemption through a future generation. It sometimes feels as if there is so much going on and so much ground to cover that nothing has any weight or depth but that passes as Saleem grows to adulthood and loses his heart to Parvati.
Satya Bhabha as the adult Saleem brings a good deal of charm and vulnerability to his character and the large ensemble cast includes noteworthy appearances from Shahana Goswami as Saleem's mother, Rajat Kapoor as his grandfather Aziz, Rahul Bose as his uncle General Zulfikar and from Shriya Saran as Parvati.
Midnight's Children may not please all the fans of the 'unfilmable' book but there is enough heart and soul in Mehta's adaptation to attract a wide audience.
Production companies: Hamilton-Mehta Midnight Productions, Number 9 Films
International sales: FilmNation Entertainment
Producer: David Hamilton
Co-producers: Elizabeth Karlsen, Stephen Woolley
Creative producer: Dilip Mehta
Screenplay: Salman Rushdie, based on his novel
Cinematography: Giles Nuttgens
Editor: Colin Monie
Production designer: Dilip Mehta
Music: Nitin Sawhney
Main cast: Satya Bhabha, Shahana Goswami, Rajat Kapoor, Seema Biswas, Shriya Saran, Charles Dance