Dir/scr: Yoshimasa Ishibashi. Japan. 2011. 90mins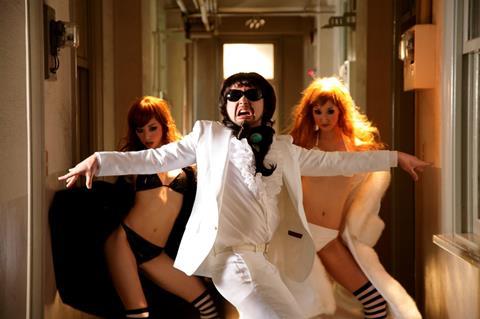 Milocrorze - A Love Story is a wild and wacky kitsch feast of surreal storylines, vibrant colours, delightfully outlandish performances and shimmering sexuality. Almost impossible to define - it has samurai fights, oddball fantasies and retro musical dance scenes - but is delivered with such zest and energy that it is almost impossible to take your eyes of it for fear of missing what happens next.
In the strange and wonderful world of Milocrorze - A Love Story virtually anything can happen.
Certainly a challenge for distributors, it could appeal to those niche outlets that have taken chances on films from Tetsuya Nakashima (Kamikaze Girls and Memories Of Matsuko) or Hitoshi Matsumoto (Big Man Japan and Symbol), but likely falls way outside the mainstream outlets. Festivals could well find it an easy fit for late night slots.
The film opens in vibrant - almost Tim Burton - fantasy style as an orange-haired young boy named Ovreneli Vreneligare (with a taste for lime green sweaters and red check trousers) falls in love with a strange and beautiful woman named Milocrorze…he is about seven and she is at least four times his age. She leaves him for a sleazy gent named Saramandala Quorenzolich, leaving Ovreneli so distraught that he covers the hole in his heart with a saucepan lid.
The film then cuts to the antics of course youth counselor Beeson Kumagai (impressive Takayuki Yamada, who starred in 13 Assassins), who shouts out "sound advice to wimps" when young teens call him for help on love. Dressed in a tight white disco suit and stacked white shoes, he punctuates his advice session with dance scenes with two bikini-clad beauties.
His story segues into that of one-eyed wandering Samurai named Tamon (also Yamada) searching for his kidnapped lost love Yuri, eventually finding her in a brothel in Taisho City, where he proceeds to fight his way through a gang of warriors to try and reach her.
The film then returns to the now grown-up Ovreneli (Yamada again) running into Milocrorze once again, and finding a way to mend his broken heart.
At its heart this is simply a film about falling in love, but it is presented in a funny post-punk fantasy fashion - rather like if Tim Burton and Quentin Tarantino had teamed to make a action-comedy-romance. In the strange and wonderful world of Milocrorze - A Love Story virtually anything can happen.

Production company: Ishibashi Production, d-rights, KAZUMO
International sales: Sochiku Films, www.shochikufilms.com
Producers: Masataka Izumi, Toshiharu Ozawa, Hiroaki Saito
Cinematography: Katsuharu Oyamada
Music: Yuko Ikoma, Kosuke Shimizu, Osamu Kubota
Main cast: Takayuki Yamada, Maiko, Anna Ishibashi, Seijun Suzuki, Mieko Harada