Dir: Tarsem Singh. US. 2012. 95mins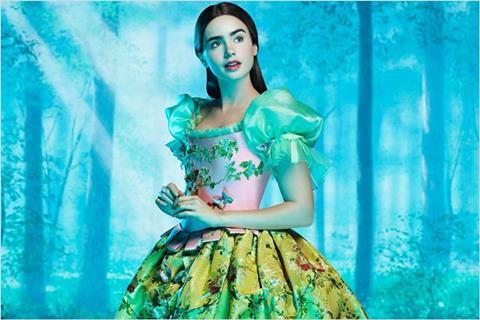 The first of this year's two big screen versions of the classic Snow White fairy tale is a stylish and witty live action fantasy that has the feel of a sassy animated feature. What Mirror Mirror doesn't have, unfortunately, is the heart and warmth of the best animated fare, a lack that may limit its appeal for a core female-skewing family audience.
As you'd expect from director Tarsem Singh, the film is big on visual style.
Relativity Media will need to make full use of the star power of Julia Roberts and the up-and-coming Lily Collins when it opens the film in North America this weekend in competition with blockbuster holdover The Hunger Games. The film has already opened in a few international markets and will probably do best outside the US, as did the somewhat comparable Alice In Wonderland in spring 2010.
Diverging a bit from the most familiar versions of the fairy tale, the script has the 18-year-old Snow White (Collins) held a virtual prisoner by the evil Queen (Roberts) who seduced her now dead father. When Snow attracts the attention of a hunky visiting prince (The Social Network's Armie Hammer) she is banished to the forest, where she is taken in by a band of robber dwarves who prepare her to reclaim her rightful place on the throne.
More noticeable than the changes to the story, however, is the modern tone. The ironic humour and snappy colloquial dialogue should keep adults amused, while the eye candy and physical comedy will work for kids.
As you'd expect from director Tarsem Singh (Immortals, The Cell), the film is big on visual style, with elaborate art nouveau-ish sets and, courtesy of the late Eiko Ishioka, highly stylised and colourful costumes. The score by animation expert Alan Menken adds another touch of class.
Roberts has fun as the enjoyably nasty Queen and UK-born Collins (who made her debut in The Blind Side and was most recently seen in Abduction) is an alluring Snow White. Nathan Lane provides some nice comic moments as the Queen's downtrodden servant.
Production companies: Relativity Media, Rat Entertainment
International sales: Relativity Media (www.relativitymediallc.com), FilmNation (http://www.wearefilmnation.com)
Producers: Bernie Goldmann, Ryan Kavanaugh, Brett Ratner
Executive producers: Tucker Tooley, Kevin Misher, Jeff Waxman, Robbie Brenner, Jamie Marshall, Tommy Turtle, Josh Pate, John Cheng
Screenplay: Marc Klein, Jason Keller
Cinematography: Brendan Galvin
Production designer: Tom Foden
Costume designer: Eiko Ishioka
Editors: Robert Duffy, Nick Moore
Music: Alan Menken
Website: www.mirrormirrorfilm.com
Main cast: Julia Roberts, Lily Collins, Armie Hammer, Nathan Lane, Sean Bean, Mare Winningham, Michael Lerner