Dir: Tom Berninger. US. 2013. 74mins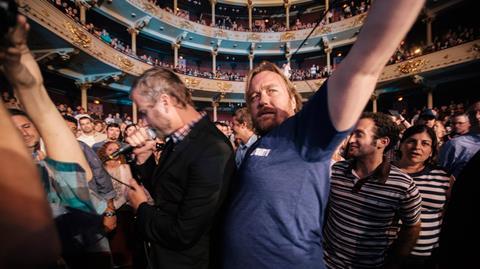 An engagingly left-field variation of the 'rock band on tour' film, the entertaining and amusing documentary Mistaken For Strangers is the sort of film that could only be made because the director (and virtual 'star' of the film) Tom Berninger is the younger brother of Matt, the lead singer of successful indie rock band The National.
It is a feel-good film that has some charming laugh-out-loud moments.
The set-up – a familiar and genial one – is that film student Tom takes the chance to spend some quality time with his brother by joining the band as a roadie as they head off on a world tour. Though niche in terms of formal theatrical release, it is quirkily enjoyable, and will appeal to fans of the band itself.The film opened the Tribeca Film Festival.
The idea to make the film comes from Tom – he has made a couple of short horror flicks that he proudly shows off – and armed with a small camera and aided by the fact that he knows the band well, he heads off, seemingly ill-prepared in terms of what questions to ask, and sets about recording all around him.
He is an engagingly bumbling, funny and klutzy guy to have on tour – and the opposite of is more intense brother Matt, who is clearly very fond of him – and while he does his best as assistant to the tour manager, his enthusiasm for filming and drinking beers (as well as forgetting what he is supposed to do) it comes as no surprise when the powers-the-be decide that he leave the tour.
His interview technique is rather lacking – rambling questions to be various band members, who also include two other pairs of brothers, with a highlight being "Do you ever get sleepy onstage" – though he does eventually get to ask his brother some more pertinent questions about the nature of songwriting.
There are some engaging footage of the band on tour – and even some jumpy shots of them meeting President Obama when they played in Washington – especially when it comes to filming Matt and his signature move of heaving out into the audience with his microphone with a very, very long lead.
Eventually bumped from the tour, time back at his parent's Cincinnati house gives Tom time to reflect on his shortcomings and the realisation that his embracing of the rock'n'roll lifestyle when he should have been working on his roadie duties may have been a mistake.
But plonked in the garage at Matt's Brooklyn home he focuses on editing his film, and comes up with the conclusion that their relationship is pretty good. And this is true – the core of the film is the warmth between him and Matt, but its strength is that Tom comes to see that his amusingly bumbling persona is the strength of the film, and he gives his own character plenty of room to have fun in amidst the serious on-stage business of the band. It is a feel-good film that has some charming laugh-out-loud moments, and while never totally illuminating about The National, it is a fine film about family and relationships.
Production company: American Mary, The National
Producers: Matt Berninger, Carol Besser, Craig Charland
Executive producer: Marshall Curry
Co-producers, Aaron Dessner, Bryce Dessner, Scott Devendorf, Bryan Devendorf, Dawn Barger, Brandon Reid
Cinematography: Tom Berninger
Editors: Tom Berninger, Carin Besser
Music: The National
With: Matt Berninger, Tom Berninger, Aaron Dessner, Bryce Dessner, Scott Devendorf, Bryan Devendorf