Dir: Francois Pirot. Belgium-France-Luxemburg. 2012. 93mins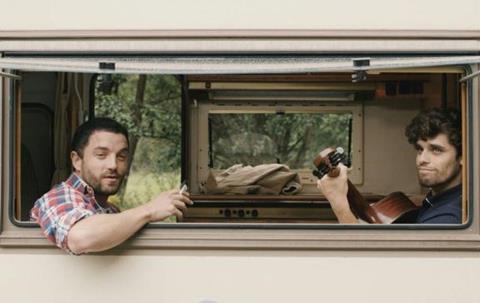 A road movie that never actually manages to get anywhere, Francois Pirot's film debut is a gently watchable film that while perhaps too slight and repetitive to work with audiences – at least those not from its home territories – has some real moments of charm and is driven by impressive widescreen cinematography and two genial lead performances by Arthur Dupont and Guillaume Gouix.
The series of loose and gentle plot twists are sustained thanks to the genial performances by Dupont and Gouix.
Mobile Home, which had its world premiere at the Locarno Film Festival, is the sort of concept that would fit easily into a Hollywood remake, though its modest levels of drama, comedy and sex would need to be heavily upped to breakout to more mainstream audiences. There is a gentle innocence to the film, but like the character's planned journey, it never really gets going.
Simon (Dupont) and Julien (Gouix) are old friends, but both currently living with their parents deep in the laid-back Belgian countryside. Simon recently moved back in with his parents after splitting with girlfriend Sylvie (Anne-Pascale Clairembourg) and leaving their flat in Lieges, while Julien never left home, staying home to look after his ill father, Luc (Jean-Paul Bonnaire) in their ramshackle farmhouse.
With Luc now received, Arthur proposes that he and Julien should buy an RV – using money his parents had saved for him to buy a house – and hit the road for a grand adventure, working as seasonal workers and taking no real responsibilities in life.
Plans amusing hit trouble right from the start, when Julien drives the mobile home into a dirt track, to dodge his parents who are chasing them, and damages the vehicle. This means they have to take work uprooting trees at a nursery just a few miles from their homes to pay for the repairs…though at least they can argue they have started their journey.
Arthur is the definition of a man-child, dodging work, strumming his guitar as he dreams of getting his band back together, and having random sex with a young woman who buys into the plans. Julien on the other hand stills feels a responsibility for his father (and enjoys their scrabble games together) and increasingly finds the concept of leaving hard to take – especially when he starts romancing a young woman who works at the nursery.
The series of loose and gentle plot twists are sustained thanks to the genial performances by Dupont and Gouix. Gouix's Julien is perhaps more interesting in the more subtle role as he is torn between his friend and his father, while Dupont's Simon is much more one-note and his only character development is that he finally realises that he has to make his own way in life.
Manuel Dacosse's cinematography makes the most of the lush countryside and the sleepy warmth of village life, and while Mobile Home never really gets going it is at least modestly watchable and certainly well performed.
Production companies: Tarantula, Urban Factory, RTBF
International sales: Urban Distribution, www.urbandistrib.com
Executive producers: Joseph Rouschop, Valerie Bournonville, Federic Corvez, Clement Duboin, Donato Rotunno.
Screenplay, Pirot, Maarten Loix, Jean-Benoit Ugeux
Cinematography: Manuel Dacosse
Editor: Albertine Lastera
Production designer: Francois Dickes
Music: Francois Petit, Michael De Zanet, Renaud Mayeur
Main cast: Arthur Dupont, Guillaume Gouix, Jean-Paul Bonnaire, Claudine Pelletier, Jackie Berroyer, Anne-Pascale Clairembourg, Gilles Soeder, Eugenie Anselin, Arnaud Bronsart, Gwen Berrou, Pierre Nisse