Dir: Mani Haghighi. Iran. 2012. 100mins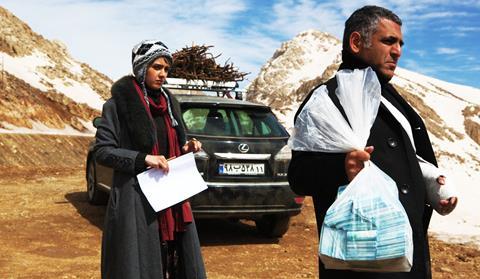 Utterly engaging at first, Iranian director and scriptwriter Mani Haghighi's absurdist parable of charity gradually reverses itself into a narrative and thematic cul-de-sac. It's a shame, because this original, sophisticated film reminds us once again of the continued vitality of the Iranian film industry against all the political odds.
Haghighi has come up with a great premise for a dark comedy, but never really worked out where to take it.
Buoyed by the central double act of Taraneh Alidoosti and the director himself as a couple of smart urbanites who go to a remote rural area of Iran to give away huge bags of money, this black comedy gets blacker as it proceeds. But it seems ultimately to have little point except to follow the couple's Situationist probing of just how far people will degrade themselves for money to its bleak and dramatically unresolved end.
Iranian cinema is a close-knit clan: Haghighi wrote Fireworks Wednesday, the debut feature of Asghar Farhadi, whose A Separation picked up the Golden Bear at the 2011 Berlinale. But Modest Reception – a title one half suspects the director chose so critics could riff on it ironically in their reviews – has none of that film's arthouse breakout potential. Further festival action looks likely, followed perhaps by a few speciality theatrical slots.
The film opens with an exhilarating burst of anarchic comedy. Pretty, smart and bossy city girl Leyla (Alidoosti) and her well-groomed and well-dressed older male companion Kaveh (Haghighi), who has a touch of the Clooney about him, are stopped by a soldier on a mountain road, as they are having a blazing argument in the car.
After a high-energy row which leaves the country-boy soldier utterly bemused, the couple, feigning a hissy fit, throw a couple of bags of cash at him and his colleague from what we see is a huge pile in the back of the car. Cut to Kaveh and Leyla laughingly running back over the scene, which Kaveh has filmed on his iPhone, and discussing the finer points of their performance.
We never work out their relationship: sometimes they tell people they're brother and sister, sometimes husband and wife or lovers. A glimmer of an explanation is offered in the form of a mother who is dying of cancer back home in Teheran and wants to help out the poor of the district where she was born – but by now we're armed and forewarned against anything as obvious as the truth.
In this barren, snow-dusted rockscape, near a border that's more than once alluded to but never named, with not a village to be seen, Kaveh and Leyla continue to bicker and spar while distributing bags of cash, complaining all the while that it's not as easy as one might think. A pious bearded shack-dweller who seems to be some kind of hermit refuses with quiet dignity to take a bag of notes, and the owner of a remote roadside café gives back a stash that Leyla left in the privy.
But others take the money, sometimes in return for things that are bought or cruelly extorted from them: two kids take several bags in exchange for bundles of firewood; and in a harrowing scene near the end, a haggard teacher even breaks down and parts with the body of his dead day-old daughter, who he is trying to bury in the frozen ground, after a torrent of taunting from Kaveh.
More disturbing than hilarious or thought-provoking, this and a couple of other scenes in the film's sombre and unfocused second half are particularly harrowing because although the film clearly has one foot in absurdist, Beckettian territory, it keeps the other firmly planted in realism. The performances from the actors who play these mountain folk are raw and believable, and while the setting may be otherworldly in its high-altitude grandeur, it is also grittily real.
Haghighi has come up with a great premise for a dark comedy, but never really worked out where to take it. What disappoints about this post-modern prankster comedy, in the end, is not so much its lack of heart – that we can live with – but its lack of direction.
Production companies: Mani Haghighi
International sales: Iranian Independents, www.iranianindependents.com
Producer: Mani Haghighi
Screenplay: Mani Haghighi, Amir-Reza Koohestani
Cinematography: Houman Behmanesh
Editor: Hayedeh Safiyari
Production designer: Amir-Hossein Ghodsi
Main cast: Taraneh Alidoosti, Mani Haghighi